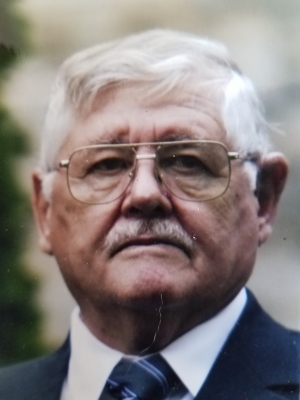 Kenneth E. Bluem (89) resident of Durand, passed to eternal life on April 15, 2018. He leaves behind his wife of 20 years, Irene Brion, daughter Audrey (Ron) Noble, sons Thomas (Anna) and Chad (Pam Vogler). He is also survived by 7 grandchildren Misty Noble, Veronica (Lynn) Marble, Brigitte Noble, Kateri Noble, Jerad, Tamissa and Nathan Bluem ; 7 great grandsons, 2 great granddaughters and 1 great-great grandson; his siblings, Clem (Ginger), Frances (Delmar) Travis, Dorothy (Russell) Pederson, his brother William's wife, Sylvia, and his brother-in-law Robert (Judy Menard) Krumenauer along with numerous nieces and nephews.
He was preceded in death by his first wife of 46 years Helen (Krumenauer) Bluem and his brothers Marcellus and William.
Ken was born in the township of Drammen, Wisconsin on April 28, 1928 where he grew up on the family farm and graduated from Mondovi High School on May 29th, 1946. After graduation he went to Iron Mountain, Michigan and worked for his Uncle Tom in his landscaping business. After returning to Wisconsin he worked for Holsum Bakery up until his retirement in 1993 and when not working he loved hunting, fishing and always had a story to tell you. He was a long-time member of the Knights of Columbus and active in all the church parishes that he attended over the years.
Funeral Mass will be 11:30 AM Thursday, April 19, 2018 at St. Joseph Catholic Church in Arkansaw with Rev. Joseph Okine-Quartey officiating. Burial will be in Sacred Heart Catholic Cemetery in Eau Claire. Visitation will be from 10:30 AM until the time of services at the church on Thursday.
He will be greatly missed by family and friends. In lieu of flowers, memorials may be made to St. Joseph Catholic Church in Arkansaw Wisconsin.
Rhiel Funeral Home & Cremation Services, Durand, is serving the family.