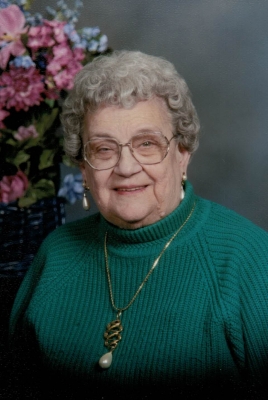 Virginia I. Lieffring, age 93 of Menomonie, formerly of Eau Galle, died Tuesday, May 1, 2018 at the Neighbors of Dunn County Care Center in Menomonie with her family by her side.
Ginny was born on May 21, 1924 in the Town of Dunn rural Menomonie. She was the daughter of John and Anna (Gasteyer) Arndt. Ginny grew up on the family farm and graduated from the 8th grade at the Waubeek School. After school, Ginny worked for several years as a housekeeper and nanny. Ginny married Gerald H. Smith on April 29, 1947 at St. Henry Catholic Church in Eau Galle. After marriage they continued to farm on the Arndt family farm and raise their family. Gerald passed away in 1982. Ginny later married Charles "Chic" Lieffring on March 8, 1986 at St. Henry Catholic Church in Eau Galle. They then lived on the Lieffring farm. Chic passed away in 2000. Since 2015, Ginny has been a resident of the Neighbors of Dunn County.
Ginny enjoyed playing cards, traveling, sewing, embroidering, baking and driving tractor. Most of all, she loved spending time with family and friends.
Ginny is survived by her children; Lee (Charlene) of Menomonie, Terry (Gail) of Glenwood City and Debrah (David) Wittig of Maiden Rock, nine grandchildren; Lisa (Curt), Laurie (Ryan), Melissa (Bill), Lacie (Tom), Scott (Sara), Carrie, Mark (Heidi), Tina (Chris) and Jessica, 28 great grandchildren, niece, nephews, other relatives and friends. She is preceded in death by her parents, two husbands; Gerald Smith and Chic Lieffring, a daughter; Mary Ann in infancy and two sisters; Mamie Komro and Velma Mathis.
Funeral Mass will 11:00 AM Friday, May 4, 2018 at St. Henry Catholic Church in Eau Galle with Rev. Jerry Hoeser officiating. Burial will be in the church cemetery. Visitation will be from 10:00 AM until the time of services at the church on Friday.
Rhiel Funeral Home & Cremation Services, Durand, is serving the family.