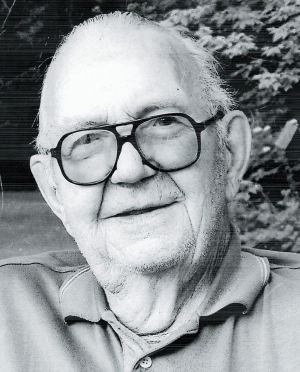 Fred H. Mense age 88 of Menomonie, died Sunday May 20, 2018 at The Neighbors of Dunn County in Menomonie.
Fred was born December 11, 1929 in Menomonie. He was the son of Hugo and Mildred (Clark) Mense and grew up in Menomonie. Fred served in the Merchant Marines and later the U.S. Air Force and was honorable discharged in 1949. Fred married Marie Flamand February 28, 1957 in Menomonie. Fred worked for the City of Menomonie for approximately 35 years.
The outdoors was Fred's life, he was a person who loved everything about nature and was an avid outdoorsman. He enjoyed fishing especially trout fishing, hunting, trapping, harvesting wild berries, mushrooms, asparagus and wild rice. Fred was always quick with a joke or story to tell. He will be greatly missed by his family.
Fred is survived by his children, Patty Mense Christianson of North Dakota, Diane (Dave) Larson of Menomonie and Marcel Mense of Menomonie; four grandchildren, Sonya, Freddie, Welder and Andy, and great grandchildren, many nieces, nephews other relatives and friends.
He is preceded in death by his parents, his wife, Marie in 2009, his son Alex, a sister, Myrna Clouse, and a brother, Jerry Mense.
The family would like to express a special thank you to Dr. Margaret Paulson and Dr. Steve Brown and the staff at The Neighbors of Dunn County for the wonderful care that was given to him.
Memorial services will be 10:30 AM Thursday May 24, 2018 at St. Joseph Catholic Church in Menomonie with Rev. James Kurzynski officiating. Burial will be in the Fall City Cemetery, rural Menomonie.
Visitation will be held one hour prior to services at the church on Thursday.