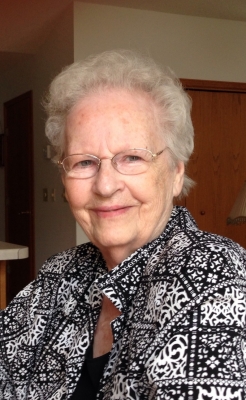 Clara Mae (Kraft) Gifford, age 85 of Durand, passed away Saturday, May 26, 2018 at The Neighbors of Dunn County in Menomonie in the memory care unit after a long struggle with Alzheimer's and Dementia.
Clara was born on March 20, 1933 at home in the township of Dunn, rural Dunn County to Leon and Margaret (Kelly) Kraft. After high school, Clara married James Gifford at St. Mary's Assumption Catholic Church in Durand. Clara was employed at the Durand Egg Station until she joined her husband, Jim in the year 1950, who was stationed with the U.S. Army at Camp Atterbury, IN and they lived off base at Edinburg, IN until Jim went overseas to Korea in 1951.
Their first child, a son Jimmy Joe was born at Camp Atterbury, IN at the army hospital. When Jim went to Korea, Clara and son Jimmy Joe returned to Durand at which time Clara went back to work at the Durand Egg Station. After her husband, Jim returned home from the service, Clara became a wonderful homemaker and a beautiful mother with so much caring and love for her children. She loved life, music, dancing, traveling, socializing, baking, crocheting, making dish towels, and many more activities too numerous to mention here.
Clara is survived by her husband; James of 67 years, children; James of Albuquerque, MN, Julie (John "JD") Martinez of Albuquerque, NM, Ronald (Cindy) of Salem, OR, Scott (Gabriella "Gabby") of Albuquerque, grandchildren; Shannon Gifford, Jackson "Jack" Gifford and Mason Gifford, step grandchildren; Matthew McKinley and Allison Turpen, great grandson; Brayden Gifford, step great grandchildren; Madeline, Augustine, John and Michael, siblings; Betty Luther, Larry (Kate) Kraft, Daniel "Dan" (Diane) Kraft, Kathryn "Kay" Bauer, Karen Bauer, Darrell (Donna) Kraft, Judith Manor and Barbara Schneider, one sister-in-law; JoAnn Kraft of Apache Junction, AZ and one brother-in-law; Laverne Weissinger of Hastings, MN, nieces, nephews, other relatives and friends. She is preceded in death by her parents, two sons; Larry Allen and Thomas John, siblings; Lavone Benson, James "Jim" Kraft, Verla "Birdie" Kraft, Isabelle Seipel, Elwood "Toby" Kraft and Mary Weissinger.
The family would like to send a special thanks to the following: Assisted Living of Durand (Doug and Marianne), Plum City Care Center, Dr. Kenneth Rucker, Chippewa Valley Hospital, The Neighbors of Dunn County, Fr. Paul Bosco, Fr. James Kurzynski and all of the extended family and friends that have helped with words of encouragement and so many other ways. Thank you all!
Memorial Mass will be 11:00 AM Tuesday, June 5, 2018 at St. Mary's Assumption Catholic Church in Durand with Rev. Paul Bosco officiating. Burial will be in the church cemetery. Visitation will be from 10:00 AM until the time of services at the church on Tuesday.
In lieu of flowers, memorials in Clara's name may be made to the Alzheimer's Association, www.alz.org or 1-800-272-3900.
Rhiel Funeral Home & Cremation Services, Durand, is serving the family.