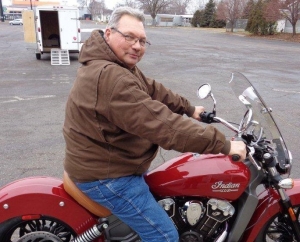 Jeffrey Michael Knopps, Sr.
On May 31, 2018, Jeffrey Michael Knopps, Sr. rode off into the sunset on his beloved Indian Scout surrounded by family who waved him goodbye. Jeff was born on April 22, 1954 in Topeka, Kansas to Jerome Knopps and Mary Katherine Bolle. He grew up in Menomonie, Wisconsin and attended Menomonie High School graduating in 1972. In 1974, Jeff married Barbara Knopps (Krueger) and had three wonderful daughters. They divorced in 1984. He went on to marry Cynthia Knopps (Loveless) and they had two wonderful children. They divorced in 1997.
Jeff was a member of Red Cedar Antique Auto Club and Menomonie Moose Lodge. Jeff was an avid outdoors man. He enjoyed traveling out West on his motorcycle to see the natural beauty of our country and to attend the Sturgis Motorcycle Rally. He loved to go deer hunting with his old friends. He was a very social person that always made people smile around him. He enjoyed a good beer at many area establishments where he always met new friends.
Jeff leaves behind five wonderful children: Mary Kay (Chad) McVey, Kari (Levi) Lentz, and Terry Hochstetter, Jeffrey Knopps, Jr., and Rachel (Eric) Propson. He was the beloved grandfather to Samantha, Connor, Abby, and Kora and great grandfather to Lucas and Zackary. Jeff is survived by his father Jerome Knopps, two brothers, Jonathan Knopps and Edward Ziegler, and companion Carol Cramer. He is proceeded in death by his mother Mary Katherine Bolle Ziegler and step-father John Ziegler.
Memorial Services will be 11:00 AM Wednesday June 6, 2018 at the Rhiel Funeral Home in Menomonie. Burial will be at a later date.
Visitation will be held from 6:00 to 8:00 PM Tuesday at Rhiel Funeral Home and one hour prior to services at the funeral home on Wednesday.