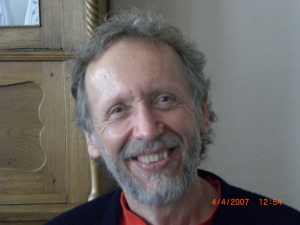 Thomas Czerlinsky, 73, passed away Saturday May 19th, 2018 in Menomonie, Wisconsin. He was born on September 9, 1944 in Mannheim, Germany to Ernst and Irmgard. Tom's father, a physicist who, along with his brother, Rolf and sister Susi, immigrated to Cambridge, Massachusetts under Operation Paperclip where his father would continue his work as a physicist on behalf of America's defense efforts before moving back to Germany after the war.
Tom attended public schools in Belmont where he learned English and excelled in school. He graduated Belmont High School and pursued academic degrees in keeping with his considerable intellectual interests and talents. He completed a Bachelor's Degree in Psychology from Boston University (1967), a Master's degree in Rehabilitation Counseling from New York University (1969), and his Doctorate in Philosophy from the University of Virginia in Charlottesville (1974). Tom then went on to complete a post-Doctorate in Neuropsychopharmacology from Boston University (1977-1978).
Tom had a successful career as researcher, educator, therapist, and co-author of research grants and papers addressing issues of importance in the rehabilitation of people with disabilities. From 1979 to 1989, he was a Research Scientist at the Research and Training Center, University of Wisconsin-Stout, Menomonie, WI. From 1990-1994, he was researcher-educator and director of research at the University of Texas Southwestern Medical Center at Dallas. He was then on faculty in Rehabilitation Counseling at Southern University in Baton Rouge, Louisiana (1994-1998) and at Thomas University in Thomas, Georgia (1998-2006). Afterwards, and up until the onset of Alzheimer, he ran his clinical practice at New Opportunities Substance Abuse and Treatment Program in Thomas, Georgia (1999-2010).
Tom subsequently resettled in Menomonie, Wisconsin after he was diagnosed with Alzheimer's. During the last few years of his life, he lived at Linden House, a residential home in Cedar Falls, Wisconsin, where he was cared for with love and high quality care, and became known as Dr. Tom.
Tom entered Hospice Care in April of 2018 as his physical status and cognitive capacities rapidly declined due to the advancement of his Alzheimer's. By May, he had declined significantly and passed away on May 19th, 2018 in the loving hands of the staff and hospice personnel at Linden House. His last days were gentle, among people who were closest to him at this time of his life and both cared for and loved him as "Dr. Tom" - a smiling, gentle, and pleasant man.
Tom is proceeded in death by his father, Ernst, his mother, Irmgard, and his brother, Rolf. He is survived by his sister Susi, his three sons: Christopher (Pamela), Andrew and Timothy (Matthew), four grand-children, Nephews Glen and Douglas and Niece Karin.
A celebration of his passing will be held on Tuesday, June 26th at 11am at Evergreen Cemetery in Menomonie Wisconsin, in addition to an intimate scattering of ashes at the Linden House.
Wishes or donations, in lieu of flowers or cards, in Tom's name to a charity of your choice are preferred.