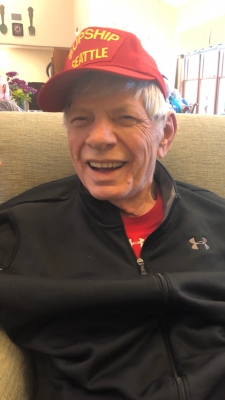 James E. Lechner, age 77 of Durand, died Thursday, June 14, 2018 at the Neighbors of Dunn County in Menomonie.
Jim was born on May 25, 1941 in St. Paul, MN. He was the son of Edward and Jeanette (DeSmith) Lechner. Jim grew up in both Glenwood City and Elmwood and attended Elmwood High School. On July 2, 1958, Jim joined the U.S. Navy where he became a career Navy man. He did his basic training in Great Lakes Naval Base in Illinois, he served abroad on the USS Somers, USS Sierra, USS Hooper, USS Jouett and the USS Davidson. Jim married Teresa "Tess" Krings on December 31, 1962 at Sacred Heart Catholic Church in Elmwood. Over Jim's naval career, Jim and Tess lived in Great Lakes, IL, San Diego, CA, Honolulu, HI and Washington D.C. In 1979, Jim took a position in Washington D.C. in the Naval Military Personnel Command and retired from the Navy as Chief of Naval Material in July of 1972. Jim's rank at retirement was Master Chief Petty Officer-E9 in 1981. In retirement, Jim and Tess moved to Durand where he remained the rest of his life.
Jim enjoyed hunting, fishing and going on casino trips with his Navy friends. He also enjoyed playing cards and watching sports, especially football. Most of all, Jim loved to spend time with family and friends, especially his grandchildren.
Jim is survived by his wife; Tess, three daughters; Jayne (Steve) Porter of Wheelersburg, OH, Jeana (Larry) Burch of Huntingtown, MD and Jodi (Tad) Bauer of Durand, nine grandchildren; Shannon (Jason), Michael, Kayla (Chris), Josh, Taylor, Kelcie, Breleigh, Bently and Brinly, five great grandchildren; Ava, Cash, Kody, Konner and Ty, siblings; Bob (Mary Jo) of Menomonie, Joe of Elmwood, Tom (Dawn) of Elmwood, Mary (Ron) Kallio of Menomonie, Lori (Nancy) Lechner of Menomonie, nieces, nephews, other relatives and friends. He is preceded in death by his parents, grandson; Matthew Kline, one brother; Chuck and one sister; Linda Lawson.
Prayer Services will be 4:00 PM Wednesday, June 20, 2018 at Rhiel Funeral Home in Durand with Rev. Paul Bosco officiating. Military Honors will be provided by the Durand American Legion Post #181 of Durand. Visitation will be from 1:00 PM until the time of services at the funeral home on Wednesday.
Rhiel Funeral Home and Cremation Services, Durand, is serving the family.