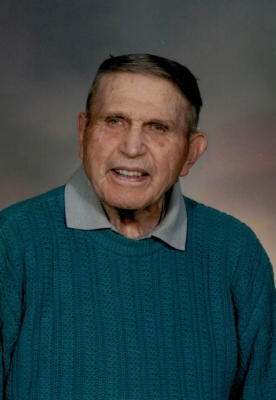 Cyril J. Weisenbeck, age 90 of Durand, died Saturday, June 16, 2018 at Chippewa Valley Hospital in Durand with his family by his side.
Cyril was born on March 18, 1928 on the Weisenbeck family farm in the Town of Maxville, rural Durand. He was the son of Joseph and Barbara (Brantner) Weisenbeck. Cyril grew up on the family farm and attended school at the Traun Bluff School. Cyril married Dorothy Chilson on October 10, 1950 at Holy Rosary Catholic Church-Lima in Durand. After marriage they continued farming and raised their family on the Weisenbeck family farm. Cyril and Dorothy moved to the City of Durand in 2003 where he remained the rest of his life.
Cyril was a lifelong member of St. Mary' Assumption Catholic Church, a longtime member of the Knights of Columbus and a member of the Lima Polka Choir. He also enjoyed square dancing, fishing, hunting, horse shoes, playing cards, and picking flowers for Dorothy. Most of all, Cyril loved to spend time with family and friends.
Cyril is survived by his wife of 67 years; Dorothy, children; Al (Jill) of Augusta, Keith (Diane) of Durand, Dorothy (Dan) Baader of Nelson, Dennis (Judith) of Brooklyn Park, MN, Mary (Wayne) Richmond of Eau Claire, Judy (Bill) Seyer of Lancaster and Dave (Cheryl) of Durand, 17 grandchildren; Laura (Matthew), Sara (Alex), Lucy, Kate (Matt), Ben (Paula), Christine (Adam), Stacy (Jeremy), Emily, Rebecca, Shawn (Alicia), Beth, Matthew (Jodi), Amanda, Nick (Michelle), Erin (Nick), Rachel (Troy) and Brad (Fiancé Taylor), 18 great grandchildren; Piper, Gemma, Charlotte, Phillip, Madelyn, Amelia, Caleb, Kaden, Katelyn, Mqylei (Mom; Shilo), Henry, Evelyn, Amelia, Keegan, Deslynn, Wyatt, Dylan, and Peyton, nieces, nephews, other relatives and friends. He is preceded in death by his parents, son-in-law; Michael Pattison, grandson; Joey Weisenbeck, siblings; Rose (William) Traun and Hubert (Margaret).
Funeral Mass will be 11:00 AM Friday, June 22, 2018 at St. Mary's Assumption Catholic Church in Durand. Rev Paul Bosco will officiate. Burial will be in the church cemetery. Visitation will be from 4:00 PM – 7:00 PM Thursday at the Rhiel Funeral Home in Durand and one hour prior to services at the church on Friday.
Rhiel Funeral Home & Cremation Services, Durand, is serving the family.