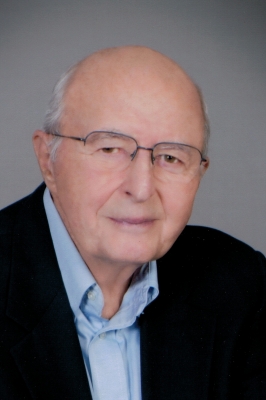 Richard H. Gebhart age 87 of Menomonie, passed away on Thursday June 21, 2018 at Mayo Clinic Health System in Eau Claire.
Dick was born April 15, 1931 in Faulkton, SD. He was the son of Edward J. and Clara E. (Bauhs) Gebhart. Dick grew up in Orient, SD, graduating from Orient High School. He received his bachelor and master's degrees from Northern State College in Aberdeen, SD and his doctorate from the University of Missouri-Columbia. Dick served in the U.S. Airforce for three years during the Korean War. He married Shirley Lusk in 1958 in Aberdeen, SD.
Dick taught high school in Alexandria and Aberdeen, SD and was a trainer for North American Aviation. He did research with the American Industry project. Dick taught and was Department Chair in the Technology Education Department at the University of Wisconsin-Stout in Menomonie for 28 years. He received numerous awards including teacher of the year. He was proudest of the impact he had on his students' future.
After retiring in 1994, Dick and Shirley spent their winter months in Mesa, AZ where they played golf, taught stained glass classes, traveled, enjoyed his children and grandchildren and was always proud of their accomplishments.
Dick is survived by his wife Shirley of 59 years; a daughter, Cheryl (Tom) Latshaw of Ann Arbor, MI, sons, Brian (Barb) of Chaska, MN, Bruce (Jody) of Wayzata, MN; grandchildren, Parker, Grace and Sam Latshaw, Abby & Joe Gebhart, Ally, Nick & Livi Gebhart; two sisters, Geraldine Bowar and Delores Clement, many nieces, nephews and friends.
He is preceded in death by his parents, brothers, Harold, Francis, Ralph and Donald; sisters, Blanche Haley and Dorothy LeDuc, brothers-in-law, Bill Haley, Ben Bowar, Louis Clement, Jerry LeDuc, Skip Bush; sisters-in-law, Bernadine Gebhart, Delores Gebhart, Phyllis Gebhart, Mildred Gebhart, Beverly Bush, father and mother-in-law, Earl and Esther Lusk.
Funeral services will be 11:00 AM Tuesday June 26, 2018 at St. Joseph Catholic Church in Menomonie with Rev. James Kurzynski officiating. Burial will be in the church cemetery with Military Honors provided by the Menomonie Veterans Honor Guard.
Visitation will be held one hour prior to services at the church on Tuesday.
In lieu of flowers, memorials are preferred to UW-Stout Foundation-Dr. Richard & Shirley Gebhart Training and Development Scholarship; St. Joseph Catholic Church; or a charity of the donor's choice.