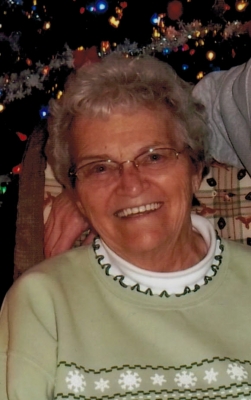 Bonnie J. Stoll, age 86 of Menomonie, died Wednesday, July 4, 2018 at her home in Menomonie with her family by her side.
Bonnie was born on November 16, 1931. She was the daughter of Emil and Dorothy (Sumter) Wolske. Bonnie grew up in the Hatchville area of rural Menomonie and graduated from Dunn County Aggie. Bonnie married Donald J. Stoll on July 2, 1951 in Menomonie. After marriage, they farmed for a short while before buying Club 29 in Menomonie. They later sold Club 29 and bought The Longbranch Bar in Elmwood. After selling The Longbranch, Bonnie took a job at UW-Stout in the food service department until she retired.
Bonnie enjoyed going to the cabin up North, fishing, deer hunting, gardening, needle work, reading and watching the Brewers and Packers. She was in the Senior Bowling League in Menomonie and was still bowling this spring. Bonnie was a member of St. Joseph Catholic Church in Menomonie. Most of all Bonnie loved to spend time with her family and friends, especially her siblings.
Bonnie is survived by her children; Tom (Pat) of Menomonie, Kathy (Jerry) Miller of Knapp, four grandchildren; Jon (Renee), Eric (Tiffany), Curt (Jolene) and Kevin, nine great grandchildren; Carlee, Lexi, Carter, Savana, Gracie, Kayla, Tannous, Brooklinn and Renner, one brother; David (Ginny) Wolske of Menomonie, four sisters; Clarice Groepper, Dolores (Ed) Ferber, Nancy (Richard) Frank, all of Menomonie and Betty Turner of Columbia Falls, MT, best friends; Don & Lola Thompson and Maxine Berger, both of Menomonie, nieces, nephews, other relatives and friends. She is preceded in death by her parents and husband; Donald.
Funeral Mass will be 11:00 AM Monday, July 9, 2018 at St. Joseph Catholic Church in Menomonie with Rev. John Mano officiating. Burial will be in the Lucas Cemetery in Menomonie. Visitation will be Sunday from 4:00PM-7:00PM at the Rhiel Funeral Home in Menomonie and one hour prior to services at the church on Monday.
Rhiel Funeral Home & Cremation Services, Menomonie, is serving the family.