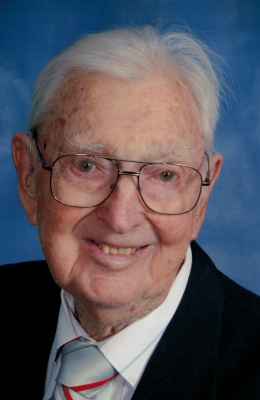 Theodore "Ted" Edgar Wiehe of Menomonie, age 100, died Sunday July 15, 2018 at his home in Menomonie.
Ted was born June 6, 1918 in the Stillwater, Oklahoma. He was the son of Fred H. and Elizabeth (Bergstrasser) Wiehe. The Fred Wiehe family lived on rental farms near Stillwater, OK until about the beginning of WW II. Ted went to a country school until third grade, then to a consolidated school in Perkins, OK where he graduated from Perkins High School in 1937. Ted attended Oklahoma A & M College (now Oklahoma State University) while living at home and helping his father on the farm. His father helped financially by buying more cows to milk. Ted hauled milk to the cheese plant in Stillwater while attending college.
In 1941, Ted joined the Navy V-7 program which permitted him to continue college in Machinist training and in the industrial arts teacher education program. In 1942 he went to Midshipman's School in Chicago, IL. Within six weeks his father died, and he was given emergency leave to go home to sell the farm animals and equipment. He helped buy a house for his mother in Stillwater and then returned to the Navy. During his two and a half years in the South Pacific, much of the more severe fighting was over but he was part of the line of ships that steamed into Yokosuka Bay, Japan, behind General McArthur. He watched the ship (through binoculars) where McArthur signed the peace treaty with Japanese. Soon afterward the amphibious boats, where he served as an officer, were involved in moving allied war prisoners from northern Japan out to the hospital ship, Comfort.
After the service, he finished a master's degree at Oklahoma A & M College. In 1947 he began teaching at Northeastern Oklahoma (a two-year college) College in Miami, OK. While there Ted met Emma Lou Rodecker and they were married on July 20, 1947. Ted went on to graduate school during four summers at the University of Missouri and continued his teaching of metal working courses at Miami during the year. He then went to work at Kansas City Buick, Olds and Pontiac production plant for a year and finished his dissertation for the Doctor of Education degree. During this time period two daughters were born. Ted moved his family to Menomonie, WI where he taught machine shop and industrial teacher education for 28 ½ years at Stout State University. During the 1976-77 school year, Ted and his wife Rod, spent the year in Taiwan at National Taiwan Normal University where he assisted in the initiation of a master's degree program in industrial education. While at Stout, he advised student clubs and organizations and helped pioneer the use of video equipment for instructional purposes. He also co-authored an instructional manual for teaching methods.
Ted retired in 1981 and for 28 years after retirement, every January, February and March Ted & Rod became "snowbirds" living at a second home in Lakeland, FL.
Ted's interest included old cars (1927 Model T Ford), gardening, ballroom dancing, traveling, reading, socializing, building things in his shop and enjoying life. Ted's gardening expertise produced a great crop of vegetables each year which he sold at their church with the proceeds given to the World Hunger Fund.
Through his involvement with the Menomonie Lions Club he assisted in developing the nature trail at Wakanda Park and writing a guide booklet about the various trees and undergrowth. He also developed a second nature trail and booklet at their winter home in Florida.
Ted is survived by his two daughters, Ann (Tom) Gasner of DeForest, WI and Lynn (Glen) Pepper of Lafayette, CO; one granddaughter, Elizabeth Price of Denver, CO.
He is preceded in death by his parents, his wife, Rod in 2014, and a sister Dorothy Wallen.
In lieu of flowers, memorials may be given to First Congregational United Church of Christ Planned Giving.
Memorial services will be 11:00 AM Friday July 20, 2018 at First Congregational United Church of Christ in Menomonie with Rev. Kathleen Remund officiating. Burial of cremains will be placed in the church memorial garden.
Visitation will be held one hour prior to services at the church on Friday.