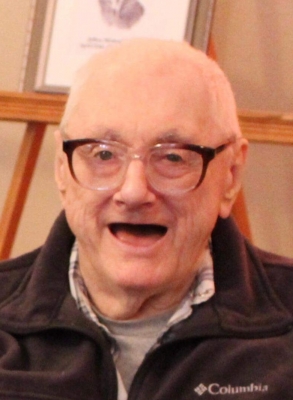 On August 1st, 2018 Jerome Daniel Knopps 83, joined his eldest son Jeff in heaven.
Jerome was born September 4, 1934 in Menomonie to Daniel Knopps and Mayme Brehm. Jerome was the middle child of five. He had three sisters, Mary Strehlau, Genevieve (Stan) Huftel, Luella (Eugene) Krumrie and one brother Ronald (Leone) Knopps.
In 1954 Jerome married Mary Katherine Bolle and had two sons, Jeffrey Knopps Sr. and Jonathan Knopps. During his marriage to Mary, he joined the U.S. Army where he served for two years and was part of Operation Sage Brush. He always fondly reminisced about his time in the Army as a chauffeur for the motor pool and driving around generals.
After serving in the military, Jerome worked at different farms in the area and would often be seen proudly driving around town in his powder blue Volkswagen Beetle. Jerome also worked at Menards for several years before he retired.
Jerome is preceded in death by his parents, his son Jeffrey Knopps Sr., and his brother-in-law Arnold Strehlau.
He is survived by his son Jonathan Knopps, grandchildren Mary Kay (Chad) McVey, Kari (Levi) Lentz, Terry Hochstetter, Jeffrey Knopps Jr., and Rachel (Eric) Propson. He is also survived by his siblings, many nieces and nephews, and great grandchildren.
Jerome's family would like to thank the Colfax Health & Rehabilitation Center and St. Croix Hospice for the tremendous care that they provided Jerome, it is truly appreciated and valued.
A graveside service will be held at 11:00 AM Tuesday August 14, 2018 at St. Joseph's Catholic Cemetery in Menomonie with Military Honors provided by the Menomonie Veterans Honor Guard.