Gregory "Blackie" R Brantner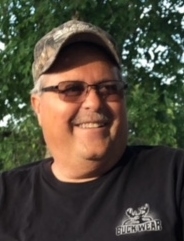 Gregory "Blackie" R. Brantner age 64 of Rock Falls, passed away on Saturday August 18, 2018 at his home in the Township of Albany, Pepin County, surrounded by his family and his favorite cat, Peanut.
Greg was born on March 3, 1954 in Durand. He was the son of Richard H. and Lorena E. (Weiss) Brantner and grew up in the Rock Falls community. Greg graduated from Durand High School in 1972. Greg married Laurie Bergner on December 7, 1974 at St. Joseph's Catholic Church in Rock Falls. After marriage they made their home in Rock Falls. Greg worked at Fehr Concrete in Eau Claire for 25 years. Greg then worked for Hurlburt Heating & Plumbing for 10 years, retiring 2007.
Greg enjoyed playing softball for the Club 10 and Security National Bank softball teams. He also enjoyed bowling for McMahon Motors, pool league for the Hide-A-While bar, dartball League for St. Joseph Catholic Church in Rock Falls. After retirement Greg enjoyed spending time at the camper on Lake Holcombe fishing and spending time with family and friends. Greg also enjoyed working with wood making turned bowls.
Greg is survived by his wife, Laurie, two children, Valerie (Barry) McAnulty of Kennesaw, GA, Joey (Ka Mei) Brantner of Maple Grove, MN; two grandchildren, Maggie and Cody McAnulty; two sisters, Sharon (Clarke) Johnson of Eau Galle; Luanne (Dave) Weissinger of Durand; two brothers, Rick (Lonna) of Rock Falls and Tom Bauer of Turtle Lake, a special aunt, Darlene "Dark" Bryan of Durand, several nieces, nephews, other relatives and friends.
He is preceded in death by his parents, his brother LeeVal Brantner and mother-in-law, Shirley Bergner.
Funeral services will be at 11:00 AM on Tuesday August 21, 2018 at St. Joseph's Catholic Church in Rock Falls with Rev. Joseph C. Nakwah officiating. Burial will be in the church cemetery.
Visitation will be held from 4:00 to 7:00 PM Monday at Rhiel Funeral Home in Durand and one hour prior to services at the church on Tuesday.