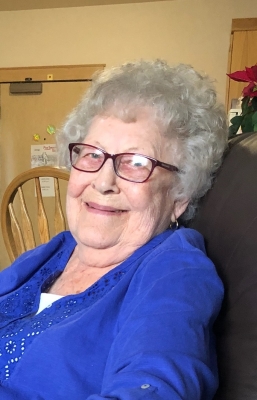 Loretta M. Burns, age 96 of Menomonie, died Friday, August 24, 2018 at the Neighbors of Dunn County in Menomonie.
Loretta was born on March 27, 1922 to Louis and Louise (Wolbert) Brehm in Menomonie. She was married to Lawrence Burns in February 1941 and they lived their entire life in Menomonie. Through this marriage they had four children. Besides being a homemaker, Loretta also worked at Parker Pen and she worked at UW Stout in the mail room until her retirement. For the last five years Loretta lived at Comforts of Home and she loved the staff there.
Loretta was a member of the hospital auxiliary, the senior center, the Moose Lodge and a member of the Clown Club. Loretta always had vegetable and flower gardens, she loved to shop and do crafts. She and Lawrence enjoyed camping and fishing together. After Lawrence passed away, Loretta enjoyed taking bus trips, especially to Branson, MO. She also enjoyed playing games and was known as the "Queen of Yahtzee"!
Lorretta is survived by her children; Barbara (Kevin) Ullom of Glenwood City, Judy Burns of Menomonie, Larry (Mary) Burns of Mahtomedi, MN and Michael Burns of Miami, FL, nine grandchildren; Sherry (Karl), Dawn (Tom), Shelly (Terry), Eric (Nicole), Alicia (Kirby), Wylie (Chrissy), Gina and Lauren, 17 great grandchildren, 21 great great grandchildren, one sister; Bernadine (Ervin) Strehlau of Menomonie, nieces, nephews, other relatives and friends. She is preceded in death by her parents, husband; Lawrence, grandson; Timothy Larson, great grandson; Broc Larson, one brother; Bernard Brehm, one sister; Leona Lemke and two nieces; Kathleen Brehm and Connie Strehlau and nephew; Gary Lemke.
Funeral Mass will be 11:00 AM Thursday, August 30, 2018 at St. Joseph Catholic Church in Menomonie with Rev. John Mano officiating. Burial will be in the church cemetery. Visitation will be from 4:00 PM – 7:00 PM Wednesday at the Rhiel Funeral Home in Menomonie and one hour prior to services at the church on Thursday.
Rhiel Funeral Home & Cremation Services, Menomonie, is serving the family.