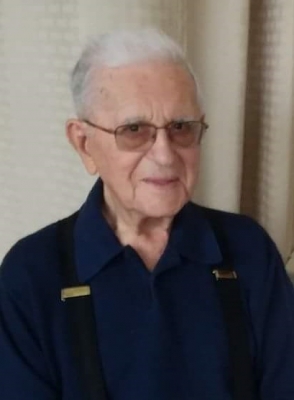 Lyle L. Richardson age 92 of Eau Claire, died Friday, September 14, 2018 at the Colfax Health and Rehab Center in Colfax with his family by his side.
Lyle was born on June 2, 1926 in Arkansaw to Archie Jay and Jessie Isabell (Coburn) Richardson. He grew up in Arkansaw and graduated from Arkansaw High School. During his senior year, Lyle enlisted in the U.S. Coast Guard on September 24, 1943 in Minneapolis. As a WWII Veteran, he served as a Radarman 3rd Class and was honorably discharged on May 28, 1946 at Portsmith, VA. Lyle was also a member of the Wabasha Civil Defense. Upon returning home to Arkansaw, he spied a cute little dark haired, blue eyed cheerleader and decided she was the girl for him. Lyle married Ethel Ann LaPean on November 2, 1948 at the Arkansaw United Methodist Church in Arkansaw. During their lives together, they made their home in Arkansaw, Durand, Wabasha, MN, Newark, CA and Caledonia, MN. Lyle and Ethel lived in Maquoketa, IA for 42 years before relocating to Eau Claire in 2016. Over the years, Lyle worked at various jobs in the dairy industry for Rochester Dairy, Lakeside Butter, Safeway Stores, Land O Lakes and he retired from Swiss Valley Farms.
Lyle was a member of the Durand-Pepin Masonic Lodge and Order of the Eastern Star. In recent years, he has attended Hope Methodist Church in Eau Claire. Lyle enjoyed dancing, especially Square, Round and Ballroom dancing. He also enjoyed golf, traveling, camping, woodworking and painting. Lyle treasured his family gatherings.
Lyle is survived by his wife of 69 years; Ethel, children; Michael (Maureen) of Blaine, MN, Dianna (Steven) Brantner of Mondovi, Cheryl Alme Bysong of Pepin, Mark (Julie) of Clinton, IA, Debra (Daniel) Farrey of Benton, Scott (Dawn) of Twin Falls, ID and Suellen (Brad) Goering of Franklin, TN, 18 grandchildren, 27 great grandchildren, two great great grandchildren, one brother; Richard (Lou) of Pepin, sisters; Lillian White of Clevland, OH, Marlys Baskin of Durand and Dayna Rutherford of Baldwin, brother-in-law; Darrell Poeschel of Neillsville, sisters-in-law; Lois Richardson of Plum City and Faye LaPean of Menomonie, nieces, nephews, other relatives and friends. Lyle is preceded in death by his parents, daughter; Melissa Richardson, son; Milan, three grandchildren; Amanda, Angela and Michael Richardson, three brothers; William, Leslie and Archie Jr. and a sister; Myrna Poeschel.
Funeral Services will be 11:00 AM Friday, 21, September 2018 at the Arkansaw United Methodist Church in Arkansaw with Rev. Lisa Weaver and Rev. Hyejung Hwang officiating. Burial will be in the Arkansaw Memorial Cemetery in Arkansaw with Military Honors provided by the Durand American Legion Post #181 of Durand and Masonic Services provided by the Durand-Pepin Masonic Lodge. Visitation will be from 4:00PM-7:00PM Thursday at the Rhiel Funeral Home in Durand and one hour prior to services at the church on Friday.
Rhiel Funeral Home & Cremation Services, Durand, is serving the family.