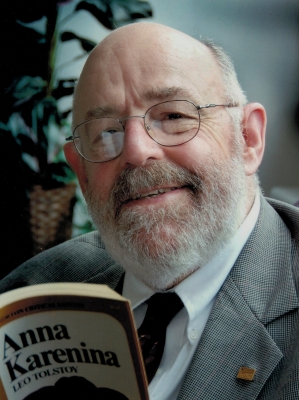 Robert J. Schuler, age 79, of Menomonie, passed away on Saturday, September 15, at his home, surrounded by family and friends.
Robert Jordan Schuler was born on June 25, 1939, in San Mateo, CA. He was the son of Edward and Ruth (Goebel) Schuler. He graduated from San Mateo Union High School in 1957. He earned a B.A. in Political Science from Stanford University, a M.A. in Comparative Literature from the University of California Berkeley, and a PhD. in English from the University of Minnesota. Robert married Carol F. Forbis on September 7, 1963.
Robert taught English for 46 years; he began as an instructor at Menlo College in Menlo Park, CA in 1965. From 1967 to 1977, he was a professor at Shimer College in Mt. Carroll, IL, and from 1978 until his retirement in 2011, he was a professor at University of Wisconsin-Stout. Robert also had a career as poet. Mentor and friend Robert W. Greene of Princeton University wrote of Robert, "We have here a true inheritor of William Carlos Williams and Gary Snyder. Read Robert Schuler and weep and laugh with him."
In addition to his loves of teaching literature and writing poetry, Robert was deeply interested in issues involving education, the arts, the environment, and the sciences. He was an avid reader in many disciplines, listened to music of all genres, and loved people of all walks of life. Fascinated by painting and jazz, he often wrote of art as an ideal. He loved, competed in, coached for, and enjoyed sports of all kinds. He was never happier than when he was tending to wildflowers in his yard or skiing the Red Cedar Trail. Though raised in California, Robert considered Wisconsin his true home.
Robert is survived by his wife Carol of 55 years; two children, Sally Schuler of Las Cruces, NM and Michael (Melissa) Schuler of Glen Allen, VA; three grandchildren, Paul Glennan of Indianapolis, IN, John Glennan of Knoxville, TN, and Meredith Schuler of Glen Allen, VA; brother Edward Schuler of Foster City, CA and sister Lynn (Schuler) Brown of Cameron Park, CA, several nieces, nephews, and many friends.
He is preceded in death by his parents and a son, Edward Anthony Schuler.
Memorial Services will be at 11:00 AM on Friday, September 21, 2018 at the First Congregational Church of Christ in Menomonie with Rev. Kathleen Remund officiating and interment at the church memorial garden.
Visitation will be held one hour prior to services at the church on Friday.
In lieu of flowers, memorials may be made to First Congregational United Church of Christ, Menomonie.