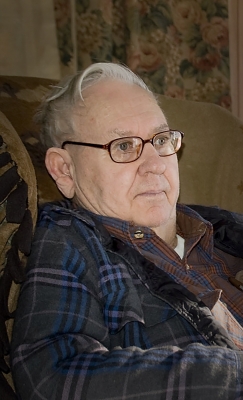 LaVern F. Flanders age 87 of Spring Valley, died Wednesday September 26, 2018 at the Spring Valley Health & Rehab, in Spring Valley.
LaVern was born August 14, 1931 in the Township of Rock Elm, rural Elmwood, an only child of Floyd and Arvilla (Hanvelt) Flanders. At the age of 15 he was burned severely when a gasoline can exploded. He was unable to finish high school at Elmwood due to his burns. On August 14 1952 he married Arlean June Hall. In 1953 they moved to South St. Paul, MN where he was employed by Armours and Company for the next 18 years. During these years he completed his high school studies and received his GED. LaVern also completed a course in building construction at Dunwoody Electrical School and a course in Police Academy in St. Paul which later he was a member of the Auxiliary Police Dept. In 1970 the family of six by now, moved back to Rock Elm where he had built a new home for the family in the country.
On January 17, 1971 on his way home from work he was hit by a drunk driver and sustained life-threatening injuries and was not expected to live. After two months in the hospital he was released and spent months in a body cast in bed and was disabled.
With the help of his family he ran Plum Creek Tree Farm for 20 years. During these years he spent a lot of time and energy helping in creating the liquor liability law (Dram Shop), which required bartenders to not serve any patron who appeared intoxicated. LaVern also spent a lot of time researching the history of Rock Elm and in 1989 he published a book about Rock Elm entitled, "Look Back and Remember". He also loved to read, garden, and playing cribbage.
LaVern is survived by a daughter Sue (Bob) Deglman of Maiden Rock; three sons, Mark (Robert) of Van Nuys, CA; Craig of Spring Valley, Nate (Jen) of Wilson; nine grandchildren, 13 great grandchildren, three step grandchildren, other relatives and friends.
He is preceded in death by his parents, his wife of 65 ½ years Arlean, on February 5, 2018, a son Scott and a daughter-in-law, Debra (Kitchner) Flanders, his parents-in-law, Stanley and Hazel (DeLong) Hall.
Funeral services will be 11:00 AM Monday October 1, 2018 at the Elmwood United Methodist Church with Rev. Michael Weaver officiating. Burial will be in the Poplar Hill Cemetery-Township of Rock Elm, rural Elmwood.
Visitation will be held from 4:00 to 7:00 PM Sunday at the Rhiel Funeral Home in Elmwood and one hour prior to services at the church on Monday.