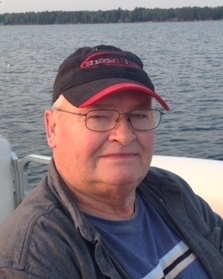 David B. Sagstetter age 73 of Elmwood, passed away on Wednesday September 26, 2018, at his home in the Township of Rock Elm, rural Elmwood.
David was born May 23, 1945, in Plum City. He was the son of Ambrose and Fannet (Gleason) Sagstetter. David grew up on the farm in the Arkansaw Valley until 1952 when the family moved to a farm in the Township of Rock Elm, rural Elmwood. David graduated from Elmwood High School in 1963. He married Georgette Schroeder and they had three daughters and later divorced.
David farmed with his father and later took over the family farm operating it until he retired.
David was an avid sportsman; he enjoyed hunting and fishing his whole life. He was known for his sense of humor and quick wit. He lived life to the fullest; traveling abroad and hunting out west. He enjoyed cooking, especially making soups and jams which he personally delivered to all those he loved. David instilled to his daughters that family is always there for each other, and that strength is not just in success; it is in your ability to get back up when you fall down.
David is survived by his three daughters, Tanya (Kevin) Kulig of Independence; Renee (Jim) Von Berge of Inver Grove Heights, MN; Angie (Todd) Wordell of Woodbury, MN; seven grandchildren; Austin (Stephanie), Alyssa and Breanna, Andrew and Brooke, Alexandra and Tyler; one great granddaughter, Clara; one sister, Ramona (Dennis) Schneider of Elmwood; three brothers, Steve (Margie) River Falls, Wayne of Elmwood and Jerry (Jean) of Eau Claire; several nieces, nephews, other relatives and friends. He is preceded in death by his parents.
Funeral services will be 11:00AM Tuesday October 2, 2018 at Sacred Heart Catholic Church in Elmwood with Rev. Amis Stanislaus officiating. Burial will in the church cemetery.
Visitation will be held from 4:00 to 7:00 PM Monday at the Rhiel Funeral Home in Elmwood and one hour prior services at the church on Tuesday