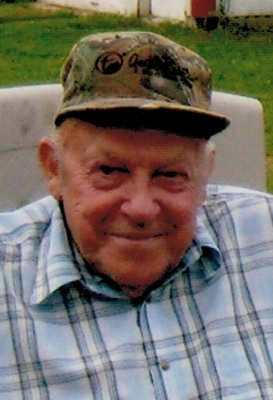 Charles R. Beyer age 89 of Elmwood, passed away on Sunday October 14, 2018 at The Neighbors of Dunn County in Menomonie.
Charles was born May 16, 1929 in Chicago, IL. He was the son of Frank and Helen (Komakowski) Beyer. As a young child Charles moved with his family to Miesville, MN. In 1940 the family bought a farm in the Township of Spring Lake, rural Elmwood. Charles served in the U. S. Army from 1951 – 1953 during the Korean War. He married Lorraine Brown August 14, 1954 at Sacred Heart Catholic Church in Elmwood. Together, they farmed and raised six children.
Charles is survived by his wife of 64 years, Lorraine, five children, Sandra (Steven) Nyeggen of Spring Valley, John (Roxanne), Donald (Stephanie), Daniel (Jody), Terrance (Lisa) all of Elmwood, a daughter-in-law, Ann Beyer of Spring Valley; nine grandchildren and 13 great grandchildren, and many relatives and friends.
He is preceded in death by his parents, a son Thomas; a brother Edward and a sister Florence Sweeney.
Memorial services will be 11:00 AM Saturday October 20, 2018 at Sacred Heart Catholic Church with Rev. Amir Stanislaus officiating. Burial will be the church cemetery with military honors provided by American Legion Post 207 of Elmwood.
Visitation will be held one hour prior to services at the church on Saturday.