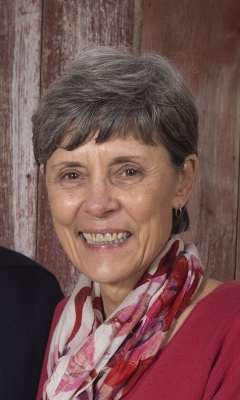 Diane Rose (Krisik) Simpson, 69, of Durand, WI, met her lord on Friday, October 26th, 2018, with her loving husband by her side at Chippewa Valley Hospital in Durand, WI.
Diane was born at St. Mary's Hospital in Ladysmith, WI to Steve and Kathryn Krisik on July 3rd, 1949. She was baptized, received First Communion, and was confirmed at St. Anthony's Roman Catholic Church in Tony, WI.
She grew up on the family farm in Glen Flora, WI, one of 15 children, where she attended school, including Flambeau High School. In 1965, her family moved to Durand where she later graduated from Durand Unified High School and met the love of her life, Daniel Paul Simpson, whom she wed on November 25th, 1967.
In 1968, the couple moved to Bloomington, WI where Dan joined the faculty of Bloomington High School, and Diane taught religious education at St. Mary's in Bloomington, where she prepared 1st graders for the Sacrament when she wasn't in the stands cheering on the "Bluejays." The Bloomington community truly embraced Dan and Diane. She frequently said that "I cried when we got to Bloomington, and I cried harder when we left". The adage "A Small Town is Like a Big Family" was not missed on the Simpsons who raised two sons, Travis and Cory, within the fabric of Bloomington life.
After seventeen years, the family returned to Durand, where Diane continued as the heart their home, while also working, first at Eau Galle Cheese and Gifts and later at 3M in Menomonie, WI.
Diane was not only a devoted wife, mother, and grandmother, but also the life of the party. Her priceless, infectious laughter characterized her exuberant spirit. She was a delightful conversationalist, had perfect timing when telling a joke, and could dance like there was no tomorrow. Frequently, she was a finalist in the annual St. Patrick's Day lying contest.
Diane was a mouthwatering cook and baker, and passionately threw herself into nurturing her family and friends. She ensured that any guest in her home was treated to a full stomach, superb company, and an impeccably clean home. She strove to provide an empathetic ear to all who needed to be heard and always placed the needs of others before her own. Diane was considerate in that she never wished to impose or be a bother.
In 2006, Diane embraced retirement by continuing to keep remarkable flower beds, help Dan with the vegetable garden harvest, and visit with guests. Her homemaking skills were indispensable in the renovation and operation of Round Hill and Camp Angelus, set just across the Chippewa River from Diane's home. A devout Roman Catholic, Diane, alongside Dan, Paul and Louella Simpson, and others, volunteered countless hours of service to the organization dedicated to honoring Mary Queen of Family Life and the preservation of the natural world.
She was an accomplished competitor at board games and the card table but was adept at squeezing in visiting between turns and hands. Her ability to set the scene during storytelling allowed her to entrance listeners into past escapades.
As a loyal Wisconsinite, she was a raucous supporter of Wisconsin's teams and eagerly anticipated the arrival of March Madness.
She was a life long advocate of economic and social justice and persevered in environmental work, most recently through the Neighborhood Ladies. Diane sought to protect the Earth and ensure that a quality environmental legacy was left for future generations. She understood that environmental protection was crucial to all of society doing well.
Diane is survived by her husband Dan; her sons Travis (Amy) Simpson and Cory (Tanya) Simpson; her grandchildren Daniel "Danny" Simpson, Stefanie Simpson, Kathryn Simpson, David Simpson, and Michael Simpson. In addition, she is survived by her sisters Lois Suchla of Independence, WI, Joan Prasnicky of Jump River, WI, Kathryn Mae Sands of Wabasha, MN, Bonnie (William) Bovin of Elk Mound, WI, Bernadette Beam of Janesville, WI, also brothers Phillip of Moose Lake, MN, Michael of Mondovi, WI, and Ronald of Rock Falls, WI. Diane was preceded in death by her parents, her brothers James, Donald, Raymond, Patrick, and her sisters Francis "Fay," and Mary Ann.
Visitation will be at Rhiel Funeral Home in Durand, WI from 4:00-7:00 p.m. on Friday, November 2. Her funeral service will begin with a visitation at 9:00 a.m. on Saturday, November 3 at St. Mary's Catholic Church in Durand, WI, followed by mass at 10:00 a.m. All are welcome to attend a luncheon immediately following the mass and share memories of our beloved Diane.
Rhiel Funeral Home & Cremation Services, Durand, is serving the family.
Condolences may be made at www.rhielfuneralhome.com.