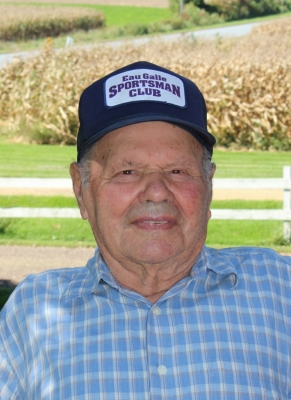 Gerald J. "Jerry" Gasteyer, of Elmwood, passed away on November 1, 2018.

Jerry was born on the family farm near Eau Galle on September 20, 1928 to William and Clara (Zeilinger) Gasteyer. Jerry was baptized at Zion Lutheran Church in Weber Valley and later was confirmed on August 9, 1942. He met Beatrice Kapping at a wedding dance at the Elmwood Auditorium in 1948 and they were married on September 19, 1952. Three children were born to this union, Julie, Robin and Penny.

Jerry, his brother Bill and his mother managed the family farm when his father died in 1942. After marriage, Jerry and Bea continued on the dairy farm and he was fortunate enough to be active in farming his entire life. He had a great passion for farming and was always ready to share his knowledge and opinions about life and how to preserve and manage the land. Jerry was active in NFO and the Dunn County Drainage District Board, held several positions at St. Peter Lutheran Church and was caretaker for the Weber Valley Cemetery for many years. Jerry enjoyed snowmobiling, hunting, a good card game and was always there to share a story or help out a friend or neighbor. He instilled in his family a strong work ethic, love for the farm and most importantly a strong love for our Lord.

Jerry is survived by his wife of 66 years; Beatrice, two daughters; Julie Hanson of Bloomington, MN and Robin (Rick) Warner of Inver Grove Heights, MN, son-in-law; Mark Lecheler of Eau Claire, six grandchildren; Josh Hanson, Breanne (Adam) Hegg, Mitchell and Sarah Warner, Thomas and Jason Lecheler, three great grandchildren; Imogen, Helena and Jasper, one sister-in-law; Jean Gasteyer, nieces, nephews, other relatives and many friends.

He is preceded in death by his daughter; Penny, son-in-law; John Hanson, his parents, brothers; Edward Brenner, Bill Gasteyer and baby John Gasteyer, sisters; Ann Wendler, Eunice King, Lila Lehmann, Sal Hoeft and Donna Oesterreicher.

Funeral services will be 11:00 AM Wednesday, November 7, 2018 at St. Peter Lutheran Church in Elmwood with Pastor Guy Bergenthal officiating. Visitation will be Tuesday from 4:00 -7:00 PM at Welcome Home Assisted Living in Elmwood and one hour prior to services at the church on Wednesday. Following the service there will be a gathering with all who wish to attend at the Welcome Home Assisted Living in Elmwood. Burial will be at the Weber Valley Cemetery, rural Eau Galle.

The family wishes to thank Mayo Clinic Hospice, Red Cedar Hospital and Heritage of Elmwood for their support and excellent care.

Memorials may be directed to the Weber Valley Cemetery Association, c/o Roger Weber N2026 West County Rd C, Elmwood, WI 54740.
Rhiel Funeral Home & Cremation Services, Elmwood, is serving the family.