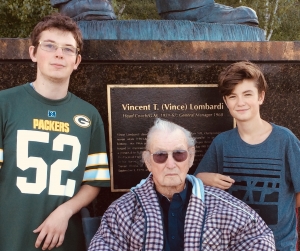 Donald E. Dahl age 88 of Elk Mound, formerly of Menomonie, died Wednesday Oct 31, 2018 at his home in the Township of Red Cedar.
Don was born March 3, 1930. He was the son of Edward and Angeline (Schumacher) Dahl and grew up in Eau Claire, Wi. In 1934, Don lost his father Edward at the young age of 4. For the next six years Don, his mother and sister lived with Grandmother (Mary Schumacher) and Uncles (John and George Schumacher) in Elk Mound. In 1940 Angeline married Walter Proudlock and the family settled in Knapp and began farming. Don went to school at Pleasant Valley, Elk Mound, and Knapp.
On September 26th, 1964, Don married Janice E. Snyder at St. Joseph Catholic Church in Menomonie. They had two children: Joseph and Nicholas.
Don in his early years worked on various farms in the area. He also worked for the Town of Lucas driving plow trucks. Don worked as head custodian at St. Joseph Catholic Church, School and cemetery most of his adult life up to the age of retirement. The school staff, students, and Parish remember Don as a kind, gentle, and principled man that could fix anything from a simple pencil sharpener to the boilers that kept the church, convent, and school warm in the winter. Don was also known as a man that anyone could go to for support, direction, and a strong shoulder to lean on in times of need. Don enjoyed woodworking, carving, DIY projects, gardening, and being active in the N.A.P.E (National Association of Power Engineers). Don had a strong belief in community service. He dedicated 35 years to the helping the Boy Scouts of America including organizing the raising and retiring of the Flag during the Ludington Guard Band summer concerts. His most cherished moment was awarding his two sons Joseph and Nicholas with the rank of Eagle Scout in 1984. Don continued with Scouting over the next 11 years to lead and mentor 14 additional young men to the highest honor of Eagle Scout before retiring from scouting and Troop 47. Don was the recipient of the District award of merit, training award, Scouters Key, Silver Beaver (the highest honor of the Chippewa Valley Council), St. George, Bronze Pelican, Scoutmaster Award of Merit, Distinguished Commissioner, and the Don Erickson Exploring Award. Don's last accomplishment in Scouting was earning his OA (Order of the Arrow) Vigil honor in 1998. Don was one of the 5 founding members of the Northern Wisconsin Hosta Society and acquired quite an array of Hosta's along the way.
Don moved to his son Nick's home in the Rusk Prairie (Elk Mound) in 2008 after the tragic loss of his wife Janice. Don lived out the rest of his years with his son Nick and grandchildren Jonathon and Joseph, beloved pet "Paco" (Chihuahua), family, friends, and loved ones. During the summers, Don loved to be outside watching over all God's creations. Don always had a pill bottle full of seeds to plant habitats for butterflies, bees and birds. He enjoyed gardening in a handicapped accessible master garden constructed for him by his son and grandchildren. He cared for over 600 varieties of Hosta's that he collected over the years and transplanted at his son's home with the help of the Hosta Society. He enjoyed spending countless hours in the woodworking room making tables, bird houses, desks, and many other items for gifts to family, friends, and Parish fund raising events. During the winters, Don loved to watch the birds from his bedroom window, wood carving small gifts for family, friends, and nurses who would often visit when needed. Don loved to take an occasional trip with his grandchildren to Lambeau field to watch a Packer Game and Target Field to take in a Twins game. Locally, he enjoyed Friday night HS football games, trips to the cemetery to light a candle for his wife and son Joseph, and family reunions that Don and his son hosted over the past several years. Don always made time to take family, friends, and visitors on a Hosta and garden tour or to simply sit under the shade tree and share life stories.
Don is survived by his son, Nick; two grandchildren, Jonathon Tyler Dahl of Minnesota and Joseph Edward Dahl at home; a sister, Mary Traxler of Baldwin, sisters-in-law June Bartilson of Chippewa Falls and Donna Flatland of Eau Claire, and other relatives and friends.
He is preceded in death by his parents, his wife Janice and a son Joseph.
In lieu of flowers, the family request that you send memorials to the Donald Dahl Memorial Fund, E7395 640th Ave, Elk Mound, Wisconsin, 54739 which will be used to support the Boy Scouts of America.
Memorial services will be held at 11:00 AM Saturday November 17, 2018 at St. Joseph Catholic Church in Menomonie with Rev. John Mano officiating. Burial will be in the church cemetery at a later date.
Visitation will be held one hour prior to services at the church on Saturday.