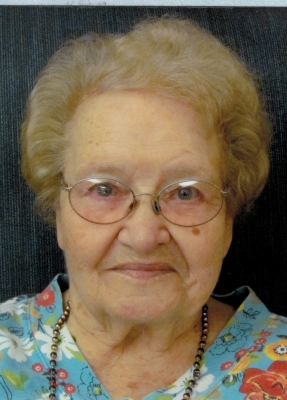 Lela Mae Supri age 92 of Menomonie passed away on Tuesday November 13, 2018 at The Neighbors of Dunn County in Menomonie.
Lela was born February 16, 1926. She was the daughter of Alvin and Gertrude Annis. She married Theodore "Blackie" Supri November 25, 1942. They farmed for a short time in the Rush River area of Pierce County and near Elmwood. They later moved to Menomonie where Lela worked as a C.N.A. at Memorial Hospital and Myrtle Werth Hospital in Menomonie.
Lela and Ted enjoyed going to horse pulls all over Wisconsin. Lela enjoyed going on walks, playing bingo, talking to staff, crocheting, watching TV, reading and spending time with family and friends.
Lela is survived by a son Gary of Menomonie, a daughter Sharon Connors of Menomonie; four grandchildren, Lynn Nieznanski of Rice Lake, Ann Bell of Little Rock, AR, John Christner of Menomonie, Lisa Martin of Menomonie; 16 great grandchildren, six great-great grandchildren, and other relatives and friends.
She is preceded in death by her parents, her husband Ted in 2006, four sisters and three brothers.
The family would like to thank the staff at The Neighbors of Dunn County and St. Croix Hospice for the wonderful care given to Lela.
A Celebration of Life will be held from 5:00 to 7:00 PM on Monday November 19, 2018 at Rhiel Funeral Home & Cremation Services of Menomonie.