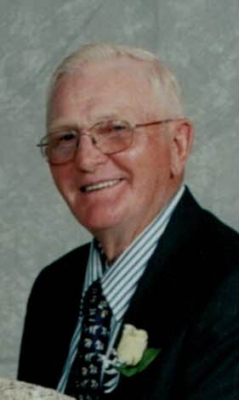 John H. Caturia, age 88 of Arkansaw, died Wednesday, November 21, 2018 at the Chippewa Valley Hospital in Durand with his family by his side.
John was born on January 31, 1930 in Durand. He was the son of Acie and Jane (Haldeman) Caturia, he grew up in Arkansaw and graduated from Arkansaw High School. He farmed with his parents. John married Veronica Bauer on June 9, 1952 at Holy Rosary Catholic Church-Lima in rural Durand. After marriage they bought a farm in the Town of Waterville where they farmed and raised their family. John cared for the land and received a conservation award for his efforts. He was a lifelong member of St. Joseph Catholic Church in Arkansaw and he was the Town of Waterville Chairman for 31 years.
John enjoyed hunting, watching his children and grandchildren's sporting events, playing cards and morning coffee at McDonalds. His three passions in life were faith, family and friendships.
John is survived by his wife of 66 years, Veronica, six children; Mary (Jim) Joslin of Exeland, Tom (Julie) of Prescott, Dave and Dan (Sue), both of Arkansaw, Carol (Antonio) Marin Woodbury, MN and Mark (Pam) of Pepin, 11 grandchildren, six step-grandchildren, six great grandchildren, 1 step-great grandchild, three brothers; Dwight and Fred (Arvilla), both of Arkansaw and Wilbur (Joyce) of Ellsworth, nieces, nephews, other relatives and friends. He is preceded in death by his parents, and infant daughter; Frances, one daughter-in-law; Elaine Caturia, one brother; Alfred, one sister; Grace (Alvin) Iverson and one sister-in-law; Ollie Caturia.
Funeral Mass will be 11:00AM Monday, November 26, 2018 at St. Joseph Catholic Church in Arkansaw with Rev. Biju Chennala Kunjukutty officiating. Burial will be in the French Cemetery in Arkansaw. Visitation will be from 9:00 AM until the time of services at the church on Monday.
Rhiel Funeral Home & Cremation Services, Durand, is serving the family.
Condolences may be made online at www.rhielfuneralhome.com.