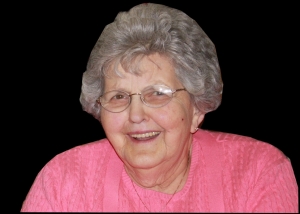 Frances H. Hurlburt, age 90 of Durand, died Wednesday, November 21, 2018 at Sacred Heart Hospital in Eau Claire with her family by her side.
Frances was born on July 5, 1928 in Durand. She was the daughter of Oscar and Anna (Traun) Schlosser. Frances grew up in the Town of Lima, attended and graduated from Sacred Heart School in Lima. After high school, Frances took a job as a teller at Security National Bank where she worked for several years. Frances married Perry J. Hurlburt on September 7, 1950 at Holy Rosary Catholic Church in Lima. After marriage, they settled in Spring Creek where they farmed and started their family. In 1959, Frances and Perry started Hurlburt Heating and Plumbing, where Frances worked the rest of her career.
Frances enjoyed reading, gardening, knitting, bird watching, traveling, fishing, crossword puzzles and playing cards. Most of all, Frances loved to spend time with family and friends.
Frances is survived by her children; Michael (Donna), Matthew (Debi), Mark (Sue Ann), Melissa (John) Weber, Max (Karen), Monte (Gay), all of Durand, Myles (Sue) of Wausau, Martha (Jerry "Joe") Hartung of Elmwood, Maureen (Mike) Krings of Prescott, Myrna (Mike) Barthel of Farmington, MN, 26 grandchildren, 17 great grandchildren, nieces, nephews, many relatives and friends. She is preceded in death by her parents, husband; Perry, daughter; Mary Boxeth, five sisters; Sr. Margaret Ann Schlosser, Dorothy Anibas, Margie Weisenbeck, Barb Bauer and Rosemary Carlisle and two brothers; John and Edward Schlosser.
Funeral Mass will be 11:30 AM Wednesday, November 28, 2018 at Holy Rosary Catholic Church-Lima in Durand with Rev. Paul Bosco officiating. Burial will be in the church cemetery. Visitation will be from 4:00PM-8:00PM Tuesday at the Rhiel Funeral Home in Durand and from 10:30AM until 11:15AM at the church on Wednesday.
Rhiel Funeral Home & Cremation Services, Durand, is serving the family.