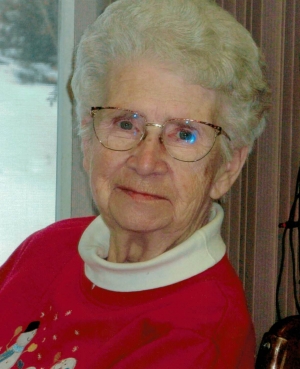 Marie Theresa Gilles-Glaus put on her walking shoes and finished her walk home to Heaven on Thursday, December 13, 2018.
Marie was born October 1, 1931, in Plum City to Louisa (Roth) and Paul Gilles. She was the 12th of 13 children. Her family lived on a farm on the East Hill of Plum City until moving into town.
Marie attended St. John's Catholic School and graduated from Plum City High School in 1949. During high school, she was a telephone operator for the phone company in Plum City. Following graduation Marie went to live with her sister, Mildred, in St. Paul, where she got a job at Marquette Bank in Minneapolis. She later worked as an aide at the Plum City Hospital. Marie became engaged to James Glaus, and they were married on January 30, 1951, at St. John's Catholic Church in Plum City. They later divorced.
Marie was a member of St. John's Catholic Church. During her retirement years, Marie took on the job of cleaning St. John's Catholic Church and School. She also volunteered at the Plum City Care Center, and for many years was a member of the American Legion Post Auxiliary.
Marie was gifted with many creative talents that she shared with her family over the years. She was an amazing cook and baker of all things sweet. Marie made Halloween costumes for her kids and grandkids. She enjoyed crocheting afghans, embroidering dish towels and sewing. She liked doing crossword puzzles. She learned how to play piano by ear. Marie enjoyed listening to music, and Christmas was her favorite time of year. Sometimes you could catch her playing Christmas music in the summer. Marie enjoyed walking in any kind of weather, and only God knows how many miles she walked around Plum City.
In 2014, Marie became a resident at the Plum City Care Center following her hip injury and surgery. She was active playing bingo, bowling, and bean bags. She loved music programs and was even a part of the drum group. But where she really shined was playing Name That Tune. She was almost never stumped coming up with the song title. The family is thankful that Marie was taken care of so well at the Plum City Care Center. The family extends a huge thank you and appreciation to all of the staff for their wonderful care, kindness and generosity to Marie.
Marie is survived by her eight children: Sharry (Rodger) Kivi, JoAnn (Bill) Weldon, Patty (Mark) Sweeney, Todd (Gwen), Kris (Don) Anibas, Mike (Lisa), Annette and Melissa. She is survived by 17 grandchildren and 23 great-grandchildren and two sisters, Jeanette Sass and Eva Storm. She was preceded in death by her parents, brothers Leon, Robert, Melvin, Marvin, Arnold and sisters Mildred, Rosella, Dorothy (Sister Roberta), Viola and Phyllis.
Funeral Mass will be 11:00 AM Wednesday, December 19, 2018 at St. John the Baptist Catholic Church in Plum City with Rev. Joseph Okine-Quartey officiating. Burial will be in the church cemetery. Visitation will be from 10:00 AM until the time of services at the church on Wednesday.
In lieu of flowers memorials may be made in Marie's name to the Plum City Care Center and St. John the Baptist Catholic Church in Plum City.
Rhiel Funeral Home & Cremation Services, Durand, is serving the family.