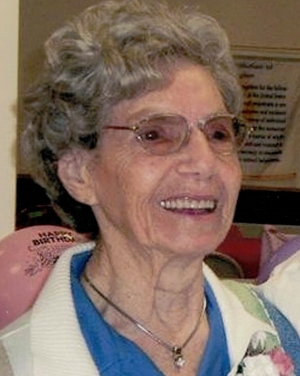 Cecelia B. Bechel, age 97, passed away on December 17, 2018, at Christian Community Home in Hudson, WI. She was born Cecelia Barbara Hagel on June 16, 1921, in Rock Elm Township to Henry and Susanna Hagel and raised near the Farm Hill church and cemetery. Cecelia graduated from Elmwood High School in 1938, and married Clarence Bechel on June 22, 1939. The two farmed for two years in the Town of Union before buying a farm and settling in the Town of Waterville, WI where they farmed for thirty-five years. In 1976, they retired and moved to Arkansaw, WI. Over the years, Cecelia and Clarence were blessed with ten children, twenty grandchildren, and many great and great-great grandchildren.
In addition to her many energetic and hard-working years working on the farm, Cecelia stayed active in her retirement days by growing a healthy, thriving garden year after year and by nurturing her many beautiful flower beds. Cecelia's boundless energy was also evident in her expert card playing, her avid square dancing, old-time dancing, her talented oil-painting, and her many hours spent fishing and camping with family and friends. Her grandchildren especially remember all the times she spent with them teaching them how to fish, play cards, polka, and more. She was a strong, intelligent, witty, talented lady who gifted love, friendship, and joy to the people in her life.
Cecelia will be greatly missed by her family: James (Joyce) Bechel of Hudson, WI; Judith (Clarence) Harmon of Elmwood, WI; Sandra (Mark) Hanson; Gregory (Bobbie) Bechel of Menomonie, WI; Patricia (Joe) Gustum of New Auburn, WI; her daughter-in-law Nina Bechel of White Bear Lake, MN; her brother Roman Hagel of St. Paul, MN, and by her many loved and cherished grandchildren, great-grandchildren, and great-great grandchildren.
She is preceded in death by her husband Clarence; her sons Dennis, Kenneth, and Bruce; her infant daughters Bernadine and Bernadette; her sisters Viola, Ethelreda, Arlene; her brothers Clarence, Ernest, Lawrence, and Elroy; and by her special friend Julius Brantner.
Cecelia's family wishes to thank the staffs of Christian Community Home (CCH) and Adoray Home & Hospice Care for the care they provided for her. In lieu of flowers, the family requests that you consider making donations to CCH and/or Adoray Home & Hospice in her name.
A gathering of family and friends, and a celebration of Cecelia's 97 wonderful years will take place on December 22, 2018, at St. Joseph's Catholic Church in Arkansaw, WI. Visitation is at 9:30 AM, followed by the funeral service at 11:00 AM. Burial will take place directly following the funeral, where Cecelia will be laid to rest at St. John's Cemetery in Plum City, WI. Lunch and fellowship will take place following the burial and the service, at St. Joseph's Church.
Rhiel Funeral Home & Cremation Services of Durand is serving the family.