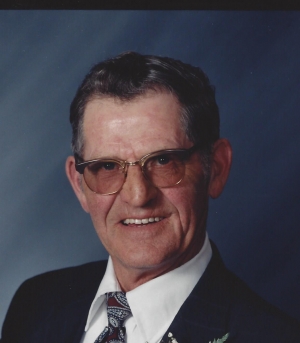 Joseph D. Traynor age 86 of Plum City, died unexpectedly on Monday, December 24, 2018 at his home in Plum City.
Joe was born on July 19, 1932 in Olivet to Basil S. and Margaret R. (Minder) Traynor. He grew up in the Olivet and Spring Valley area and was the sixth of eight children. Joe married DelMae Wittenberg on December 2, 1950 and together they had three children. He worked for several farms in the Spring Valley area before buying a farm in Plum City in 1958. Joe transitioned from dairy farming to hauling livestock and bulk milk in the 1960s and in 1971 he purchased a farm north of Plum City. On July 1, 1978, Joe married Wanda Gibson-Larson and together they had one son. Joe and his family continued living on the farm north of Plum City for 46 years before moving to the Village of Plum City in July of 2017, where he remained the rest of his life.
Joe enjoyed playing cards, tending to his garden, listening to country western music, polka dancing, and sharing a meal with family and friends.
Joe is survived by his wife of 40 years; Wanda, children; Michael (Karen) of Sioux Falls, SD, Teresa (Kelly) Kado of Menomonie, Joe Jr. (Lynette) of Maiden Rock and Andrew (Laura) of Cedarburg, four step children; Kathy (Tom) Unser of Plum City, Mark Larson of Maiden Rock, Lonnie Larson of Ellsworth and Kari (Kevin) Weiss of Hudson, 21 grandchildren, 21 great grandchildren, two sisters; Darlene Croes of Ellsworth and Barbara Hoyt of Menomonie, two sisters-in-law; Verlene Traynor and Arlene Traynor, nieces, nephews, other relatives and friends. He is preceded in death by his parents, three brothers; Francis, Roy and Ronald and two sisters; LaVerle and Della.
Funeral Services will be 11:00AM Monday, December 31, 2018 at Immanuel Lutheran Church in Plum City with Rev. Daniel Pfaffe officiating. Burial will be in the Town of Union Cemetery in Plum City. Visitation will be 3:00PM-6:00PM Sunday at the Rhiel Funeral Home in Durand and one hour prior to services at the church on Monday.
Rhiel Funeral Home & Cremation Services, Durand, is serving the family.