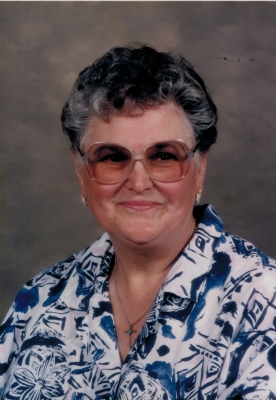 Katherine A. Fisher age 90 of Menomonie, passed away on Wednesday December 26, 2018 at Mayo Clinic Health System in Eau Claire.
Katherine was born March 13, 1928 in Dunn County. She was the daughter of Joseph and Grace (Steies) Schumacher and grew up in the Menomonie area. Katherine graduated from Menomonie High School in 1946. Katherine married George T. Fisher on November 16, 1955 at St. Joseph's Catholic Rectory in Menomonie. After marriage they farmed in the Tainter Township of Dunn County for many years. George passed away in 1991 and Katherine moved to Menomonie in March of 2018 and resided at The Neighbors of Dunn County for the past several months.
Katherine enjoyed crocheting afghans, sweaters, caps, mittens for her grandchildren and for people who were in need. She also donated them to various churches for their raffles. Katherine also enjoyed baking and cooking for her family and babysitting her grandchildren.
Katherine is survived by her children, Deborah (Ron) McDonough of Wheeler, Ed (Jan) Fisher of Colfax, Mary (Roger) Bauer of Menomonie; eight grandchildren, Grace( Mike), Sara (Casey), Tracy, Mark, Todd (Krissa), Kyle (Laressa), Tammy( Ajay) and Mike; seven great grandchildren, Lynnmarie, Breanna, Riley, Braiden, Jaelynn, Aiden, Evelyn and several nieces, nephews other relatives and friends.
She is preceded in death by her parents, her husband George, three sisters, Harriet Denning, Frances McCarthy and Rose Kohlman.
Funeral services will be 11:00 AM Thursday January 3, 2019 at St. Joseph Catholic Church in Menomonie with Rev. John Mano officiating. Burial will be in the church cemetery.
Visitation will be held one hour prior to services at the church on Thursday.