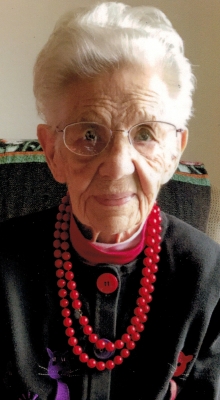 Gladys Leona Burns age 93 of Menomonie, passed away on Thursday January 3, 2019 at Comforts of Home Assisted Living in Menomonie.
Gladys was born August 8, 1925 in Wibaux, MT. She was the daughter of Irving and Anna (Lorenzen) Varney. Gladys was one of seven children, five brothers and one sister. When Gladys was three years old, Gladys's grandfather became ill and asked her father to move the family to the farm in Boyceville to help.
Gladys and her siblings attended Harthorn School by horseback, sled or walking. Gladys worked on the farm until she was 19 and then moved to Menomonie with a girlfriend, rented an apartment, worked at the canning company and waitressed at restaurants around the Menomonie area. It was her friend's boyfriend the introduced Gladys to James Burns and they were married on December 4, 1948. They were married for 24 years until Jim died. Jim had two sons from a previous marriage, Richard and Donald. Together Gladys and Jim had five children, Leona, Jimmy, Mary, Larry and Linda. Gladys worked for 19 years at the Sandy Lee Mfg. in Menomonie and washed/ironed cloths for people.
Gladys was a courageous loving mother that raised four children after her husband died in 1972 of cancer. She dealt with five different cancers in which she won all her battles! Gladys always remained very thankful, fully blessed, never complaining and loved everyone. She worked hard to make all ends meet, a mighty little lady with a huge heart. Her love for animals and flowers remained strong throughout her life. Gladys was able to have a cat through the last six years at Comforts of Home, where she has resided the past 10 years.
Her positive attitude and love of life got her through gracefully to the end. Gladys enjoyed visits from her all, especially her grandchildren. She made sure she did not miss, bingo, but also enjoyed church, music, flowers, arts and crafts, a little exercise and feeling the warm sun on her face. So nice that the Comforts of Home offered all that and more.
The family would like to thank the staff at Comforts of Home for many years of love, care and fun! Our thanks to Inclusa, who made sure Gladys' every concern was met. A special thanks to Mayo Hospice and Hospice volunteers for the past two years of compassionate, loving care. Thank you for the sincere appreciation to dear friends, family and loved ones for the out pouring of kindness, love and support.
Gladys is survived by four children and one step son all located in Menomonie: Donald Burns, Leona (Dave) Hulverson, Mary (Dorian) Skillings, Larry Burns, Linda Burns; six grandchildren, John (Jackie) & Brian (Ann) Hulverson, Darcie (Jason) Kramber, Dustin (Nicole) Skillings, Gary (Sue) & Tom (Jennifer) Burns; seven great grandchildren, Josh & Becky Burns, Josh Hulverson, Sam, Addi and Izzy Kramber, several great-great grandchildren, nieces, nephews, other relatives and friends.
She is preceded in death by her parents, her husband, an infant son, Jimmy, stepson Richard; brothers, Clarence, Edwin, Glen, Elwood and Donald Varney; a sister, Margaret Perry.
Memorial services will be held at 11:00 AM Thursday January 10, 2019 at St. Joseph Catholic Church in Menomonie with Rev. John Mano officiating. Burial will be in the church cemetery in the spring.
Visitation will be held one hour prior to services at the church on Thursday.