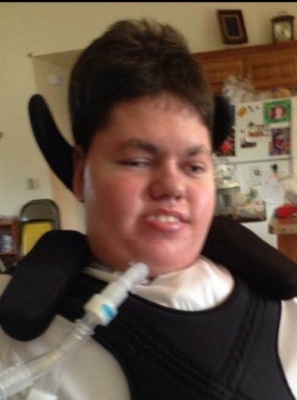 Devin Michael Bien, age 22 of Green Bay, formerly of Durand, died unexpectedly on Thursday, January 3, 2019 at St. Vincent Hospital in Green Bay.
Devin was born to Rebecca Bien-Jilek and Troy Bauer on June 4, 1996 in Eau Claire. Devin was a remarkable young man. He touched the lives of many and made an ever-lasting impression to all he encountered.
Devin's journey was never easy but he always courageously faced each challenge and did so with grace. Since Devin was a baby, he thoroughly enjoyed Disney movies, particularly The Lion King, Aladdin, Toy Story and many, many more. As he got a little older, he grew to truly enjoy his "Devin time" on the computer doing what he enjoyed most, perusing YouTube videos of his favorite Disney movies, over and over and over. He will always be known as the boy who loved repetition. Devin has always loved spending time with family. As a young boy, Devin and his "Momma" enjoyed John Deere tractor rides given by Grandpa Bien. Devin also became indoctrinated into loving the Green Bay Packers. Grandpa Bien wouldn't have it any other way- this was yet another special bond they shared. Devin absolutely loved music and the sound of singing voices. As he continued to grow from a small boy into a young man, his aunties would sing and dance for him and swing his arms to his delight! Devin enjoyed music and movement and it often would bring a smile and maybe even a tear to his face because of his pure joy. These moments were priceless. Devin's bedroom walls and ceiling were colorfully decorated to reflect his love for all things Disney. It was always very clear to Devin's family that he was a gifted and talented young man with boundless creativity. Music, movies, colorful lights, having family near, and the care and compassion of the nurses that were present every day, all brought joy and happiness to Devin's heart.
When Devin was little, he had a love for thrills which included being swung in blankets back and forth. He enjoyed the freedom and the feeling of a slight breeze blowing upon his face and through his hair. Devin was amazingly flexible in his earlier years and could make himself into a pretzel, placing his toes up by his ears. He had many goofy and entertaining moves with his limited mobility, all of which his family absolutely loved to watch. Devin and his sister, Maddy were very close; especially in their earlier years. Devin would give his sister rides on his wheelchair, they would snuggle on the couch to watch movies and they always, always were near each other. In Devin's later years, Maddy would give him hand massages using some of his favorite lotions; he had a unique way of helping drive which finger got massaged first, second and so on. Devin loved all three of his sisters fiercely and always showed his love in gentle ways, like meaningful eye contact, a smile or a gentle touch of his hand. He enjoyed the comfort and closeness of holding hands with his sisters and with Travis, his Daddy. Travis unselfishly dedicated time to finding ways to enhance Devin's experiences and independence in life. Devin enjoyed baking in the kitchen with family and staff from Paddington Station. Through his Daddy's ingenuities, Devin was able to control kitchen appliances and independently participate in some of his favorite activities. Anyone who engaged with Devin recognized that he was a very special young man. He was truly loved and all who had the privilege of interacting with Devin were left in pure awe by his determination and constant courage to try new experiences.
Devin had a special way of showing his love and his attitude. Though he didn't communicate through words, believe me, he communicated clearly with those who knew him best. The wrinkle of his little nose would communicate his disapproval of something and the tapping of his chest would express his delight. Devin was always up for a good game of "catch it if you can" with his computer mouse…what a stinker! His attitude and little shenanigans reminded us all that he was a perfectly normal, happy young man discovering life every day. Devin had precious ways of reminding us how very much he cared for and enjoyed his family. He had a special bond with his Momma. He felt her love from the moment they laid eyes on each other. She always believed in him and was his fiercest advocate. This love that they shared was like no other. It has been his Mother's honor and privilege to love and protect him. Devin's Momma lovingly lifted him up and always saw him as only having amazing possibilities to discover life and to live and love fully.
Devin's family will be eternally grateful for the love, compassion and support given by Ann and the wonderful staff at Paddington Station, where Devin lived and loved life for the last 17 years in Green Bay, WI. The many devoted physicians and nurses that participated in his journey have demonstrated the true meaning of compassionate care and, for that, our hearts will be forever grateful.
Devin is survived by his parents, Rebecca Bien-Jilek and Travis Jilek of Eau Claire and Troy Bauer, Arkansaw. His sisters Madison, Eliana and Olivia all of Eau Claire. His grandparents Ron and Corine Bien, Eau Claire, Pat and Marcia Bauer, Durand and Brad and Sara Jilek, Birchwood. His aunts and uncles Debbie (Brian) Bechel of Durand, Diane (Ron) Hunter, Laurie (Kirk) Harmon, Steve (Kris) Bien, Shawn (Joe) Schemenauer all of Eau Claire, Lisa (Paul) Sinz, Stillwater, Tracy (Jerry) Sterry, Pepin, Tammy (Deke) Almsted, Durand and Shawn Bauer, Arkansaw. Many cousins, extended family members, numerous nursing staff and family friends.
He is preceded in death by his great-grandparents Jack and Luella Bien, Mark and Adeline Maguire, Bernard and Darlene Milliren and beloved family friend James Bresina.
Funeral Mass will be 10:30 AM Saturday, January 12, 2018 at St. James the Greater Catholic Church in Eau Claire with Rev. Thomas Krieg officiating. Burial will be at St. Mary Catholic Cemetery in Durand. Visitation will be Friday from 4:00PM-7:00PM at the Rhiel Funeral Home in Durand and one hour prior to services at St. James the Greater on Saturday.
Rhiel Funeral Home & Cremation Services, Durand, is serving the family.