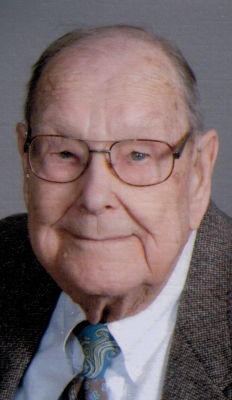 On January 15th of 2019, Lloyd Alfred Guenther went home to be with Jesus. Lloyd was 26 days shy of his 99th birthday.
Lloyd was born on February 10th, 1920 to Alfred P. Guenther and Esther M. (Wittlinger) in New London, Wisc. He was the middle of three children; Geraldine (Harvey) Pieper of Horicon, and Franklin (Barbara ) Guenther of Pensacola, Florida. He was raised in Readfield, WI, where the family had a Sawmill/Lumber yard. Lloyd graduated from New London High School in 1939, and shortly after he fought in WWII with the US Army Air Corp, serving as an armorer on P38 Fighter planes. He served in both North Africa and in Italy.
After the Army, Lloyd chose to leave the family business, the Guenther Lumber Yard of Horicon, and took up an apprenticeship as a Tool and Die maker, working for Dorst Metalcraft/ Peerless Luggage Equipment Company. In 1950 Lloyd moved to Mayville Metal Products Company where he completed his career (1982) as their Quality Control Engineer.
Lloyd married Genevieve Dorst on October 20th of 1946. They moved to Mayville, and had four children; Judy, Leslie, Kristine, and James. Lloyd and Genn were married for 68 years.
Lloyd was very active in his community. He served on the school board, was an active competition shooter (both shotgun and target .22), and served on the building and grounds committee at St. Paul's, where he also taught Teen Sunday School for a time. Lloyd loved to hunt and fish, and he shared that love with both Genn and his kids. In his retirement, Lloyd took up wood carving, creating four specially carved grandfather clocks for each of his children, as well as a number of wall hangings. He also wrote a book detailing his adventures during World War Two. Lloyd and Genn loved to travel during his retired years, covering most of the United States and Canada.
Lloyd was preceded in death by his wife Genevieve in 2014, his parents Alfred and Esther, his sister Geraldine, his brother Frankie, and one infant son. His is survived by his four children; Judy (Bock) Jung (John) of Beaver Dam/Sun City West, AZ, Leslie Nickley (Lloyd "Nick") of Grafton, WI, Kristine Sterbenz (James) of Lawrence, KS, and James (Christa) Guenther of Elk Mound, WI. He is also survived by 9 grandchildren and five great grandchildren.
The family is planning a graveside service in June in Mayville.
The family would like to thank Mayo Home Hospice for their tremendous compassion and care while Lloyd was living with his son, and they would also like to thank the Neighbors of Dunn County Nursing Home for the compassionate care during his final days.