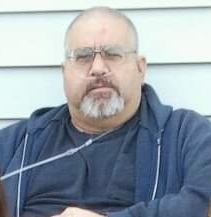 Jaime P. Robbins Sr., age 62 of Durand, WI, died peacefully on Thursday, January 24, 2019 at Sacred Heart Hospital in Eau Claire, WI surrounded by his loving family.
Jaime was born in Guttenberg, IA on February 4, 1956. He graduated from Ed'co High School in Edgewood, IA in 1974. After high school, Jaime spent most of his working years as a farmer, working for many farms over the years. Jaime married Robbie Gamble in 1975. Together, they had five children and later divorced. Jaime then married Beverly Long and later divorced. He had a great passion for collecting model tractors, Hot Wheels cars and knives.
Jaime loved spending his days riding tractor and doing farm work. He also loved riding motorcycle and spending time with family and friends. Jaime's greatest joy in life was his nine grandchildren.
Jaime is survived by his children; Jaime P. Robbins Jr., William C. (Sommer) Robbins, Paul (Jamie) Robbins, Nicole A. (Corey Bignell) Robbins and Krystal L. (Jay Blumer) Robbins, his mother; Connie Robbins-Gull, sisters; Karyl (Tom) Brown and Peggy (Roger) Burns, grandchildren; Destiny Robbins, Mackenzie Robbins, Austin Poier, David Poier, Alicia Poier, Autumn Bignell, Devin Bignell, Kayden Richardson and Anthony Robbins, nieces, nephews, other relatives and friends. He is preceded in death by his father; Paul Richard Robbins.
The family would like to thank Sacred Heart Hospital for their loving care and support of Jaime.
A Celebration of Life will be held Saturday, February 2, 2019 at the Orton Room at Corral Bar & Grill in Durand, WI from 11:00AM until 3:00PM.
In lieu of flowers, memorial donations may be made to the Rhiel Funeral Home in care of Jaime Robbins Sr.
Rhiel Funeral Home & Cremation Services, Durand, is serving the family.