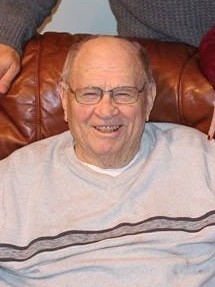 John H. "Jack" Baier, age 87 of Eau Galle, died Saturday, January 26, 2019 at Milestone Memory Care in Eau Claire.
Jack was born on March 11, 1931 to Charles and Olivia (Wallerick) Baier on the family farm in the Town of Eau Galle, rural Dunn County. He spent his youth with his older sister and brother and all of the neighborhood kids fishing, swimming, and skating on and along Eau Galle Lake. Jack also helped his parents on the family farm where he gained a life-long love of farming. He attended school at St. Henry School in Eau Galle and then Durand High School where he was in the class of 1950. Jack was a life-long member of St. Henry Catholic Church.
Jack married Barbara LaPean on July 7, 1952. They purchased the farm from his parents and he worked hard to build the farm into a wonderful family business, Baier Creek Farms Inc., and he was proud that his two sons and two grandsons are still farming the farm that has been in the family since 1857. They were blessed with seven children, Rodney, Mary Lou, Charles, Lorie, Bobbie Jo, Susan and Steven. They had fun times with family, friends and neighbors. They were involved with their children's many activities and were able to travel to Spain and Hawaii. They had many fun years at their cabin on Lake Eau Galle with family and friends.
Jack loved to spend a week up north by Drummond, WI every year for deer hunting with his hunting group. There were lots of fun times. They started out in tents, then built a collapsible cabin and then outfitted a school bus. Finally, Jack bought a hunting cabin in Barnes, WI which has become the family cabin where he and his friends continued to hunt deer, fish and play cards. He treasured all his times with his family and his friends at the cabin. The card games, fishing, drinking beer and brandy, and all the hours spent around the campfire with his children and grandchildren, we all have fond memories.
Barb and Jack divorced in 1985. In 1998, he married Christine (Biesterveld) Zignego. They were able to travel the US each winter and they traveled to Hawaii, Alaska and the Caribbean with family. There were many trips to the cabin where he continued to enjoy his family and friends.
Jack was active in the Eau Galle Snowmobile Club and also the Eau Galle Sportsmen Club.
Jack is survived by his wife Chris, his two sons, Rodney (Carole Jean) and Charles (Kristine), both of Eau Galle, three daughters, Lorie (Jim) Luepke of Downing, Bobbie Jo Baier of Menomonie and Susan (Mike) Scheel of Oshkosh, a special son, Jim (Fonda) Mork of Boyceville, sister, Sharon Smith of Arkansaw and sister-in-law, Marlene Sabelko of Elmwood. He is further survived by three stepchildren, Bruce (Bobbi) Zignego of Elmwood, Amy (Tod) Togerson of Eau Claire, and Brian Zignego of Yorktown Heights, NY, 18 grandchildren, 21 great grandchildren, seven step grandchildren, five step great grandchildren, many nieces, nephews, other relatives and friends. Jack is preceded in death by his parents, son, Steven in 1980, daughter Mary Lou in 2012, three brothers, George, Donald and William, and three sisters, Bernice O'Connell, Dorothy Miller and Rita Poeschel.
Funeral Mass will be 10:30AM Saturday, February 2, 2019 at St. Henry Catholic Church in Eau Galle with Rev. John Schultz officiating. Burial will be in the church cemetery. Visitation will be from 4:00PM-8:00PM Friday at the Rhiel Funeral Home in Durand and one hour prior to services at the church on Saturday.
Rhiel Funeral Home & Cremation Services, Durand, is serving the family.