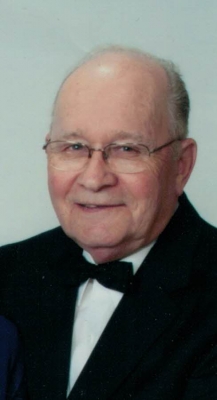 Vaughn T. Girard, age 83 of Plum City, died peacefully on Thursday, February 14, 2019 at his home in Plum City with his family by his side.
Vaughn was born on October 4, 1935 in Little Plum Valley in rural Pepin County, the son of Hale and Lorene (Marcks) Girard. He grew up on the family farm in the Little Plum Valley with his three siblings and graduated from Arkansaw High School. Vaughn joined the U.S. Army, served stateside and was honorably discharged. After returning home, Vaughn joined the Plum City American Legion. Vaughn was semi-truck driver, milk hauler and worked on farms in his early working years. He retired from Thomas & Betts where he worked for over 30 years. Vaughn married Janice Myers on December 27, 1958 at the Porcupine Church, and together they just celebrated their 60th wedding anniversary. He was a member of Lund Mission Covenant Church where he enjoyed worship and singing.
Vaughn is survived by his wife Janice, his children, Gwen & Todd, Liza & Gary, Jill & Joe, Bill & Jolenne and Jenny & Russ. His grandchildren, Andrew & Michelle, Laura & Adler, Brenton & Stacy, Kyle & Michelle, Ryan & Megan, Jordan & Yareliz, Blayne, Brooke & Zeke and Page & Bryan. Great grandchildren, Sophia, Oliver, Isabelle, Colette, Theo, Harper, Jay, Kylie, Isaac, Lacey and Avery. Two sisters, Natalie & Mike Fleming and LaVey & Roger Sabelko, many nieces, nephews other relatives and friends. He is preceded in death by his parents and one brother, Kenny Girard.
The family would like to thank Rev. Darren Catron for all his visits, Davita Dialysis in Red Wing and Mayo Hospice.
Memorial Services will be 11:00 AM Tuesday, February 19, 2019 at Lund Mission Covenant Church in Lund, WI with Rev. Darren Catron officiating. Military Honors will be provided by the Plum City American Legion Post #365 at the church on Tuesday. Burial will be in the Town of Union Cemetery in Plum City at a later date. Visitation will be from 4:00PM-7:00PM Monday at the Rhiel Funeral Home in Durand and one hour prior to services at the church on Tuesday.
In lieu of flowers, the family requests memorials be made in Vaughn's name to the Plum City School District Music Department. Vaughn's love of music began at an early age and wants the music program to continue to thrive.
Rhiel Funeral Home & Cremation Services, Durand, is serving the family.