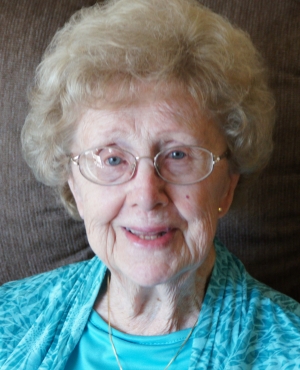 Mary P. Medzis was called to her heavenly home on February 19, 2019 at The Neighbors of Dunn County in Menomonie. She will be missed by her family, daughter Paula (Allen), sons, Andrew (Jean), Peter (Barbara), an daughter, Teresa, her grandchildren Aimee, Jodi, Rachel, Brad, Kevin, Matt, Kaylyn, Taylor, Jordan, Samantha and all her beautiful great grandchildren.
Mary, formerly of Racine, was born June 25, 1922 in Mt. Pleasant to John and Paulina (Valach) Chovan. She attended Horlick High School in Racine and graduated from Stout Institute in 1944. She married John Medzis on August 7, 1948. He preceded her in death in 2006, along with her parents, grandmother, siblings Joseph and John Chovan and Ann Reader. She lived in Racine for most of her life, moving closer to her son and daughter in her later years.
Prior to her marriage to John, she taught Home Economics in Lombardi, IL and various Junior Highs in Racine County. After raising her four children she taught Home Economics classes at Gateway Technical College in Racine. Later she supervised those same classes at Gateway and Kenosha Vocational School.
Mary and John traveled and played golf at the various golf courses around the country. When she first learned to golf, John told her "she swung her club like a baseball bat". Imagine that! Baseball and swimming were her first outdoor loves. As cold as Lake Michigan is it didn't deter her from taking a dip now and then. In retirement golf and bowling became her leisure activities.
Oh, how she loved her church. Faith was the "center" of her life. She had become a member of Holy Trinity Church for many years and when it closed John and Mary Joined St. Paul the Apostle Parish. It was there she found great comfort, support and fellowship with her daily Mass and Rosary group. They even welcomed her in as a member of the infamous "McDonald's group." How she missed them when she left Racine.
A sincere thank you and loving gratitude to the staff at The Comforts of Home, Red Cedar Lodge at The Neighbors, St. Croix Hospice and the nurses and doctors at Mayo Health Center in Menomonie. Those hands showed her compassion, respect and provided her gentle care during these last few months.
We invite you to celebrate Mary's life with us at a Mass of Christian Burial at 11:00 AM Tuesday February 26, 2019 at St. Joseph Catholic Church in Menomonie with Rev. John Mano officiating. Visitation will be held one hour prior to services at the church.
A second Mass of Christian Burial will be held at 10:00 AM Friday March 1, 2019 at St. Paul the Apostle Church in Racine with Rev. Ken Mich officiating. Visitation will be held one hour prior to services and as the Rosary was very special to Mary, we also invite you to stay for a Rosary Service immediately following the Mass. Entombment will be at Holy Cross Cemetery in Racine.