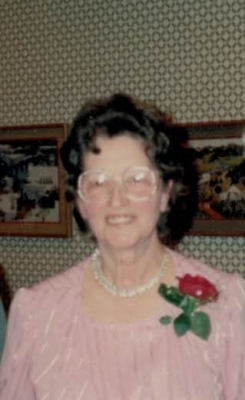 Irene S. Schuh, age 97 of Rock Falls, died Wednesday, February 20, 2019 at Oakwood Health Services in Altoona. She was at the table waiting for her dinner when she passed, we guess Irene had decided she had waited long enough for her heavenly banquet.
Irene was born on July 3, 1921 to John and Dora (Bauer) Komro. She grew up in the Town of Lima and attended Ducham Country School and Sacred Heart School in Lima. Irene married the neighbor boy Leo F. Schuh on May 2, 1938 at Holy Rosary Catholic Church in Lima. They were married almost 74 years when Leo passed away in January of 2012. Together they worked on their dairy farm, where they raised their five children. Irene loved her faith, children, flowers and all animals especially cats and dogs. She was the type of cook who, when explaining her recipe would say, "add a dab of this" or "a pinch of that."
Irene is survived by her children; Nadine Schuh of Rock Falls, Terry (Linda) of Altoona and Renee Schuh of Rock Falls, 16 grandchildren, 24 great grandchildren, eight great great grandchildren, son-in-law, Arnold Risler of Mondovi, sisters-in-law, Lorraine Komro of Durand, Jean Weldon of Plum City and Irene Eide of Illinois, family friend; Barb Potts of Chippewa Falls, nieces, nephews, other relatives and friends. She is preceded in death by her parents, husband; Leo, one daughter Valerie Risler, one son; Adrian, six sisters and two brothers.
The family would like to thank the staff of the Oakwood Health Services who have cared for Irene for the past six years.
Funeral Mass will be 11:00 AM, Wednesday February 27, 2019 at St. Joseph Catholic Church in Rock Falls with Rev. Joseph C. Nakwah officiating. Burial will be in the church cemetery. Visitation will be one hour before services at the church on Wednesday.
Rhiel Funeral Home & Cremation Services, Durand, is serving the family.