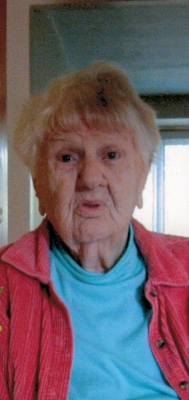 Helen R. Rompala, nee Partyka, died February 22, 2019 at age 98 at the Neighbors of Dunn County where she had resided for the last three years.
Helen's parents, Michael and Stephania (Swiec) Partyka, immigrated from Poland to Chicago at the start of the 20th Century where Helen and her siblings were the family's first generation of citizens born in the United States. As native of Chicago, Helen was a strong and independent woman who raised her two sons alone after being widowed in 1959. She maintained her independence until moving into the Neighbors of Dunn County in 2016.
Helen is survived by her sons; Dr. John T. (Dute) Rompala of Menomonie and Frank C. (Barbara) Rompala of Oak Forest, IL, four grandchildren and seven great grandchildren, one sister; Alice Lazowski of Charlotte, NC, a niece; Susan Gajda, other relatives and friends.
The entire family would like to thank Fr. John Mano of St. Joseph Catholic Church in Menomonie for his final blessing of the sick, which was given in her last moments of consciousness. They would also like to thank Jamie McRoberts of St. Croix Hospice for her comforting care during the time she helped Helen. Thank you to the staff of the Neighbors of Dunn County, you made her feel welcome, appreciated and at home during the past three years.
A family service will be held at Resurrection Cemetery in Justice, IL 11:30AM, Friday, March 8, 2019, where Helen be laid to rest beside her husband, John Joseph.
Rhiel Funeral Home & Cremation Services, Menomonie, is serving the family.