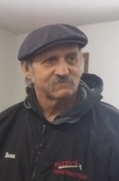 If Bun (Gary Lynn Hoyt, 62) could have written his own obituary, it may have said something like this:
"It pains me to admit it, but apparently, I have passed away on March 29th, 2019. Everyone told me it would happen one day but that's simply not something I wanted to hear, much less experience. Once again, I didn't get things my way! That's been the story of my life, all my life (ha, ha).
And while on that subject (the story of my life)… on August 4th, 1956 my parents and older brother, Gordon Charles Hoyt, received the greatest gift in the world... me! As a child, I played with my brother and Shep, had walnut fights, and hung out with my legendary Hoyt clan in Stockholm. Pepin High school was changed forever when I decided to grace them with my presence. I was certainly the best baseball player they ever knew, and I threw a no-hitter every single game I played.
One day, when I was wearing plaid pants and a striped shirt, I met Terri Lynn Andrews (Preen). She begged to become my wife, so I let her spend 36 years with me. Even though I liked to complain, that woman took care of me, fed me, cleaned up after me, and helped me through all my kidney appointments. We had some great times and produced three more Hoyts: Jennifer Liezau (Lenny), Jeremy Hoyt (Jerb), and Gina Hoyt (Fitchey). I loved to teach those little half-wits how to play sports.
The memories I'm taking with me now are so precious and have more value than all the money in the world. Speaking of money, I worked so hard for it all my life, as a mason and on the Pony Express. Sometimes, I would make it to noon and then decide I needed to take a lunch break... for the rest of the day.
We all know that I am the greatest fisherman and hunter in the universe, but this might be a good time to admit to some of my transgressions. The turkey that is mounted on my wall does not actually have that long of a beard, as I may or may not have attached a horsetail to it. If you have received a hunting picture from me, Harry, Peter, Ope, Fuzz, Tanner, Gordy, or any other one of my natural-born killer friends, don't look too closely. We may or may not have held old horns up to a doe's head. I really did have the best friends a guy could ever ask for. The only reason I did that stuff is so other people would admit to how great I already knew I was!
Just when I thought I was too old to have fun again, I became a grandpa, and my three grandkids stole not only my heart, but also most of my money. Brody Michael Bechel, Avery Donna Lietzau, and Viola Mae Lietzau have enriched my life more than words can say. Nosome, Woodchuck, and Little Woodchuck, as I like to call them, were the twinkles in my eye.
Wherever my journey takes me, I know one thing for sure. I will be met with open arms and probably a pants-pissing good laugh when I see my parents, Gordy and Viola Hoyt. We will all be together in the most beautiful hunting and fishing land in the sky. I will be waiting for all of you.
I'll leave you with this...please don't cry because I'm gone; instead be happy that I was here. Well, maybe you can cry a little bit. After all, I have passed away, you pig pucker. But today I am happy, and I am hunting and fishing. Probably naked. So, Have a banana, Piscalavarna, Peanut, Hang Loose, and Avacodo to all my friends and family.
Love you forever. Gary Hoyt."
Visitation will be held from 4:00 to 7:00 PM Wednesday at Rhiel Funeral Home in Durand.
Private family burial will take place at Waubeek Cemetery, Township of Waubeek, rural Eau Galle