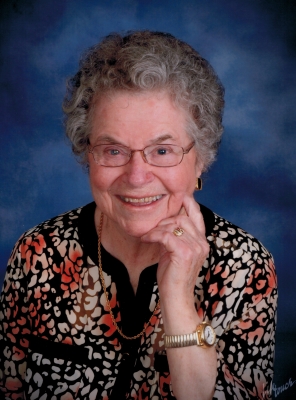 Mary J. Husby age 92 of Elmwood, died Friday, April 5, 2019 at Regions Hospital in St. Paul, MN with her family by her side.
Mary was born on January 22, 1927 in Rock Elm. She was the daughter of Edward and Iva (Bulmer) Welch. Mary grew up in Rock Elm, attended school in Rock Elm, and graduated from Elmwood High School in 1945. After high school, Mary attended Dunn County Normal in Menomonie from 1945-1947. Mary taught at Blodgett School in rural Menomonie and Elmwood schools from 1947 to 1951. Mary married Herbert Husby on December 27, 1949 at St. Joseph Catholic Church Rectory in Menomonie. After marriage, they lived in Menomonie for two years before moving to Elmwood where they made their home and raised their family. She and Herbert spent 30 years on a farm in rural Elmwood. They sold the farm and built a house on the edge of their property where Mary lived until 2018. Mary spent over 45 years playing organ for the Elmwood United Methodist Church in Elmwood. She was a member of the Pierce County Ecumenical Choir, the Menomonie VFW, Elmwood Enrichment Council, the United Methodist Women's Group and sold Avon for 25 years.
Mary enjoyed traveling, gardening, crafting, cooking, entertaining, playing cards and music. She also liked attending high school activities. Most of all, Mary loved spending time with family and friends.
Mary is survived by her children: Philip of Hudson, Keith (Susan) of Plymouth, MN and Sheila (Roger) Pelzel of Hudson, seven grandchildren: Christopher (Lucelia), Megan, Kristin, Amanda (Fiancé Jeff), Kari (Josh), Adam and Kevin, four great grandchildren: Olivia, Parker, Tobias and Theodore, one sister: Roberta "Birdie" Holcomb of Elmwood, one sister-in-law: Helen Gallman of Menomonie, nieces, nephews, other relatives and friends. She preceded in death by her parents, Husband: Herbert, two children: Kathryn and Dean Husby, both in infancy and two half-brothers: Collin and Arnold Condit.
Funeral Services will be 11:00AM Wednesday, April 10, 2019 at Elmwood United Methodist Church in Elmwood with Rev. Michael Weaver officiating. Burial will be in the Poplar Hill Cemetery in Rock Elm. Visitation will be from 4:00PM-8:00PM Tuesday at the Welcome Home Assisted Living in Elmwood and hour prior to services at the church on Wednesday.
Rhiel Funeral Home & Cremation Services, Elmwood, is serving the family.