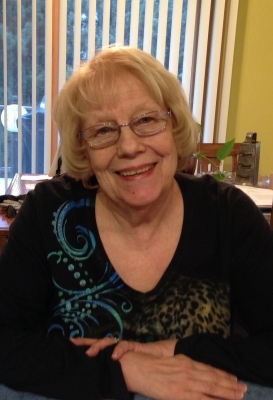 Linda Jayne Solie, age 77, passed away April 16, 2019 at Comforts of Home Memory Care center, Menomonie.
Born Linda Jayne Oberding, October 29, 1941 at Plum City, the daughter of George and Elsie (Erickson) Oberding. She lived in the Village of Plum City until graduation from Plum City High School in 1959. Linda was a cheerleader, majorette, centennial princess; and she excelled in band and chorus. She married John R. Solie on June 7, 1959. Linda worked at the University of Wisconsin-River Falls until her husband graduated from college. The family moved to Medford, and then to Durand. Her excellence in shorthand gained much recognition in the legal field. She was a legal assistant with Karl Goethel, Attorney, and Jon Seifert, Attorney, for many years; also serving as Deputy Register in Probate at the Pepin County courthouse. Linda was active in leadership of many organizations: 4-H, scouts, Homemakers, Optomists, election board, "Support Our Troops", Pepin County Historical Society, etc. Ask Linda to volunteer, and the answer was "Yes"! She orchestrated an All-School Reunion for Plum City Alumni in 2007 and used her leadership skills in many other endeavors. Retirement activities included volunteering at the Courthouse museum, quilting and gardening; she loved her flowers!
Linda is survived by her husband John, Durand; sons, Michael (Linda) Solie, New Richmond; James (Heather) Solie of Hudson and Karl (Sandra) Solie of St. Joseph; Grandchildren: Joshua, Nicholas, Jeremy, Amanda, Paige, Jacob and Erik; Brothers: Dennis (Rita) Oberding of Baton Rouge, LA, Jerry (Shannon) Oberding of Inglewood, FL. She is preceded in death by her parents, brothers Richard (Joyce) and James (Karen) Oberding.
Linda loved the Plum City Library; Memorials to them or, https://www.alz.org/scwisc, would be appropriate in her name.
Funeral Services will be 11:00AM Monday, April 22, 2019 at the Rhiel Funeral Home in Durand with Pastor Dan Richardson officiating. Burial will be in the Union Cemetery in Plum City. Visitation will be one hour prior to services at the funeral home on Monday.
Rhiel Funeal Home & Cremation Services, Durand, is serving the family.