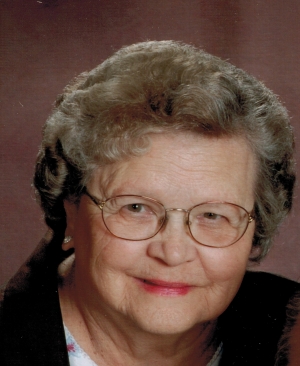 On Wednesday April 17, 2019 "God gained an Angel in Heaven" when Helen E. Gallman age 88 of Menomonie, passed away at The Neighbors of Dunn County surrounded by her family.
Helen was born January 26, 1931 in rural Menomonie. She was the daughter of Benjamin and Kathrine (Wolbert) Husby. Helen grew up in the Menomonie area, attended rural elementary school and St. Joseph's Catholic School. Helen became a caregiver to her terminally ill mother for several years. Helen married Marshall Gallman May 31, 1949 at St. Joseph Catholic Church in Menomonie and were married for 64 years. Helen worked at St. Joseph School in food service, Don's Super Value, and University of Wisconsin-Stout, besides raising their five children.
Helen love dancing, music, playing cards, games, camping, attending music festivals, spending time with family and friends.
Helen is survived by her five children, Ann (Jim) Verbeten of Appleton; Doug (Nancy) of Port Orange, FL; Steve (Marilyn) of Trego; Brenda (Rene`) LaForte of Elk Mound; Rick (Teresa) of Eau Claire; seven grandchildren, 14 great grandchildren, several nieces, nephews, other relatives and friends.
She is preceded in death by her parents, husband Marshall in 2014, an infant sister, Myrtle Margaret Husby, five brothers, Lawrence, Francis, Herbert, Richard and Eugene.
The family would like to express a thank you to Katie and Julie and the staff at Comforts of Home for their loving care of Helen.
Funeral services will be 11:00 AM Monday April 22, 2019 at St. Joseph Catholic Church in Menomonie with Rev. John Mano officiating. Burial will be in the church cemetery.
Visitation will be held from 9:00 AM Monday until the time of the services at the church.