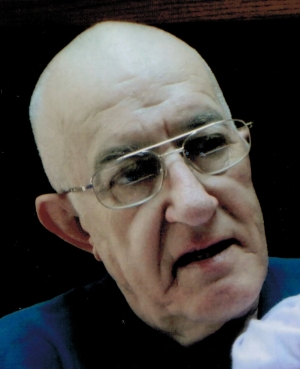 James "Buck" R. Knops age 75 of Menomonie, passed away on Thursday May 2, 2019, at his home in Menomonie.
Buck was born November 28, 1943 in the Township of Weston, Dunn County. He was the son of Lloyd and Dorothy (Pickerign) Knops. As a young child he moved with his family to Menomonie and graduated from Menomonie High School in 1962. Buck enlisted in the U.S. Navy and served from 1962 to 1966 on the USS Roosevelt Aircraft Carrier and was medically discharged. After the service, Buck returned to Menomonie and married Carol Olson on June 5, 1968.
Buck had many hot spots around town where he would visit and share times with friends "shooting the breeze". He was a tinkerer who love repairing bikes and fixing and winding his many clocks. When it came to 12 AM or 12 PM the many different chime tones could be overwhelming! Buck became a passionate collector of whatever he found interesting. He loved thrift sales and antique stores where he found a lot of his treasures.
His two granddaughters were the sparkle in his eyes. Buck was so happy when they were around, and he would talk about them for days after they went home to Madison. Livie and Maddie received many of these treasures that he discovered. The man of many hats will be lovingly missed by his family.
James is survived by his wife, Carol, his children, Christine Knops of Milwaukee, Teresa Knops (Seth Lyon) of Portland, OR, Greg (Raquel) Knops of Madison, two granddaughters, Liv and Madelyn Knops of Madison; two sisters, Anita (James) Harvey of Ocala, FL, Jayne (Gerald) Lorenz of Knapp; a sister-in-law, Mary Knops of Menomonie; two brothers-in-law, David (Diane) and Jim (Laurie) Olson, several nieces, nephews and other relatives and friends.
He is preceded in death by his parents, a brother Larry, a sister-in-law, Judy Haugerud, a niece Dawn Knops, mother & father-in-law, Rozella and Alvin Olson, paternal and maternal grandparents.
Memorial services will be 11:00 AM Tuesday May 7, 2019 at St. Joseph Catholic Church in Menomonie with Rev John Mano officiating. Burial will be in the church cemetery with Military Honors provided by the Menomonie Veterans Honor Guard.
Visitation will be held one hour prior to services at the church on Tuesday.