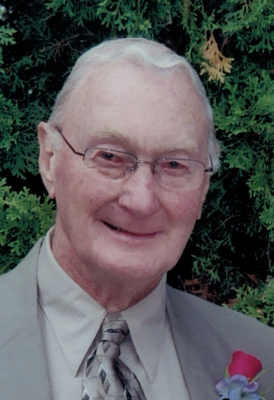 Dan McCardle, 95, of Elmwood, passed away peacefully at his home on May 8, 2019. Dan was a kind, caring and gentle man who leaves behind many friends and admirers with his passing.
Dan was born in Olivet, WI, on March 16, 1924 to William and Hazel McCardle. He was the youngest of three children having an older brother, Neil and sister, Mary.
Dan attend Olivet Country School for grades 1-8 and was an active member of the area softball team, serving as the catcher for many years. He graduated from Spring Valley High School in 1941 where he was a trumpet player in the school band. Upon graduation, he promptly enlisted in the military only to receive a medical deferment.
Dan married Lorraine Baier in 1949 after meeting at a dance at Proch's Ballroom in Ellsworth. From this union, four children were born. Lorraine passed away in 1973 from an extended illness. Dan married Kathleen Christensen Johnson in 1976, and another sibling joined the McCardle family.
Dan was a dairy farmer in the Olivet area, proudly raising purebred Belgian Draft horses, palomino Tennessee Walking horses and Dalmatian dogs. He also worked for Iowa Pork Industries and for the Emerson and Erickson families in their Arabian horse-breeding operations. Also, Dan was a longstanding member of The Belgian Draft Horse Association, showing his award-winning Belgians at various events.
Dan proudly served on the Pierce County Board, Elmwood Area School Board, the Federal Housing Administration Board and the Federated Library System Board of Trustees.
Dan always respected and appreciated the friendship and support he received from the Baier and Christensen families. Their support during life's challenges was always remembered fondly. He was a life-long member of the Sacred Heart Catholic Churches of Spring Valley and Elmwood and always active in church activities.
Dan is preceded in death by his parents, William and Hazel McCardle, brother Neil, sister Mary Spindler and wife Lorraine.
He is survived by his wife, "Kitty," son Pat (Cheryl) of River Falls, WI, daughter Sue Christenson (Jim) of Spring Valley, WI, son Jeff (Mary) of Fort Myers Beach, FL, daughter Lori Platz (David) of Madison, WI, son Kristopher Johnson of St. Paul, MN, along with 8 grandchildren, 7 great grandchildren, and numerous other family members.
Dan always recognized the good virtues in everyone and practiced modesty and humility throughout his life. He acquired numerous friends through his life and gained the respect of many. He will be greatly missed, but remembered forever by those who felt his kindness and compassion.
A sincere thank you is extended to St. Croix Hospice and Dr. Edward Wojciechowski for their compassionate care and concern.
Memorials may be made in Dan's name to the organization or charity on one's choice.
Funeral services will be 11:00 AM Monday May 13, 2019 at Sacred Heart Catholic Church in Elmwood with Rev. Prince Raja officiating. Burial will be in Sacred Heart Cemetery in Spring Valley.
Visitation will be held from 5:00 to0 7:00 PM Sunday at Sacred Heart Catholic Church in Elmwood and one hour prior to services at the church on Monday.