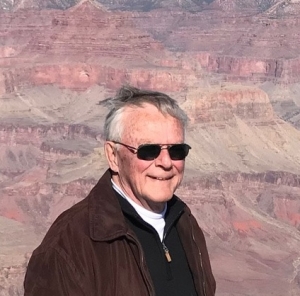 Joseph W. Streveler age 82 of Colfax passed away on Wednesday, May 15, 2019 at his home
in the Township of Tainter, rural Colfax.
Joe was born April 12, 1937 in Marshfield, WI. He was the son of Joseph and Anna (Boehm).
As a young child, he lived in Mosinee until he moved to Eau Claire. Joe graduated from Regis
High School in 1957. After high school, Joe enlisted in the U.S. Army and served for three years
where he was involved in missile testing in White Sands, New Mexico. After the service, he
moved to St. Paul, Minnesota where he worked in the computer industry. Joe married Karen
Fischer on September 19, 1963 in Altoona, Wisconsin. Joe and Karen made their home in
Lakeland, Minnesota where they raised their family. Joe was a dedicated father who never
missed either of his children's track meets during their Junior High and High School years. He
also loved weekend camping trips with his family and friends. Some of his favorite hobbies were
hunting, fishing and playing cards. He was also kept busy in his retirement years running
Lakeland Liquor in Lakeland, Minnesota.
Joe is survived by his wife Karen, his children, Michael (Dona) Streveler, Kelli (Kent) Rubin, five
grandchildren, Nikolas, Payton, Emma, Noah, Jonah; a brother, Harold (Eileen), many nieces,
nephews, other relatives and friends.
He is preceded in death by his parents, twin sons, John and Gary; three sisters, Delores
Paszek, Mary Ann Schmidt, Rosalie Schilling, and three brothers, Clarence, Francis, and
Bernard.
In lieu of flowers, the Streveler family requests that each and everyone take the time to cherish
your family and friends. Never take for granted those you love as tomorrow is not a sure thing
Memorial services will be held at 11:00 AM on Wednesday, May 22, 2019 at St. Joseph Catholic
Church in Menomonie with Reverend John Mano officiating. Burial will be at a later date at Fort
Snelling National Cemetery in Minneapolis, Minnesota.
Visitation will be held from 9:30 AM Wednesday until the time of the service at St. Joseph
Catholic Church in Menomonie.