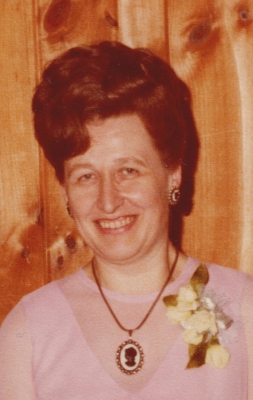 Adeline M. Nazer age 83 of Elmwood, passed away on Monday May 20, 2019 at her home surrounded by her family.
Adeline was born November 9, 1935 in Augusta to Albert and Viola (Wolfgang) Lipke. As a child she moved with her family to Bloomer where she graduated from Bloomer High School. Adeline married Herbert A. Nazer December 14, 1952 in Bloomer and together they raised six children. They later moved to Elmwood where Adeline worked at the Heritage of Elmwood Nursing Home and retired as Housekeeping Supervisor in 2001.
Adeline was member of the Elmwood Senior Citizens, the Elmwood United Methodist Church and United Methodist Women. Adeline did various volunteer work at the nursing home. She also worked during all the elections. She enjoyed spending time with her children, grandchildren and friends.
Adeline is survived by her husband, Herb; her children, Charlotte (Tom) Harris, Lois (Roger Schuh) Nazer; Audrey (James) Brantner, Christopher Nazer, Jeannette (Mike) Zopp, Sandra (Russ) Price; eight grandchildren and four great grandchildren; one sister, Rosetta Boley and other relatives and friends.
She is preceded in death by her parents and two brothers, Richard and Gilbert Lipke.
Memorial services will be 11:00 AM Wednesday May 29, 2019 at the United Methodist Church in Elmwood with Rev. Michael Weaver officiating. Burial will be in the Lower Weston Cemetery, rural Menomonie.
Visitation will be held from 4:00 to 7:00 PM Tuesday at the Rhiel Funeral Home in Elmwood and one hour prior to services at the church on Wednesday.
Online condolences may be made at www.rhielfuneralhome.com
Rhiel Funeral Home & Cremation Services of Elmwood is serving