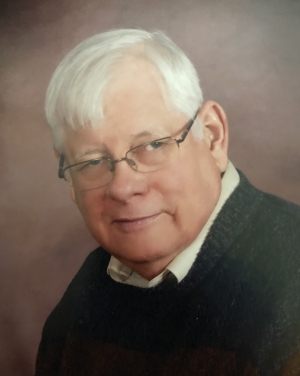 Wayne A. Nero age 73 of Menomonie, passed away on Monday, June 3, 2019 at Grace Woodlands Memory Care in Eau Claire surrounded by his family.
Wayne was born February 9, 1946 in Chicago, IL. He was the son of Gilbert and Eleanor (Molzahn) Nero and grew up in the Chicago area. During his childhood he spent several weeks each summer with his older brother at the farms of relatives in the Boyceville area, loving every minute of life in the country. He graduated from Maine West High School in Des Plaines, IL in 1964 where he played football and was on their conference championship team. Wayne attended the University of Wisconsin-Stout (Stout State University) in Menomonie and received his BS degree in 1968, being the first graduate of Stout's new Business Program. He played football for Stout and was a member of Stout's conference and small school state championship team in 1965. Wayne received his MBA in 1969 from the University of Wisconsin-Madison, his Ed.S in 1977 from UW-Stout, and his Ph.D from the University of Minnesota in 1981.
Wayne married Sharon (Sheri) Sell September 6, 1969 at St. John's Lutheran Church in Golden Lake, Wisconsin. The couple made their first home in Illinois where Wayne worked in sales and market research for International Harvester, Construction Equipment Division for four years.
Moving to Menomonie, WI, Wayne established his career as a Professor at the University of Wisconsin-Stout from 1974-1996 in the Business Department and was loved and respected by his students. He was an Assistant Blue Devils Football Coach from 1974-1975 and served as Faculty Advisor to Stout's chapter of the American Marketing Association. While at Stout, Wayne served as Business Program Director and was a member of the Faculty Senate. Wayne was named Educator of the Year in 1995, was a Dahlgren Awardee in 1996, and received the Philip W. Ruehl Prime Mover Award in 1998 in recognition of his many years of service to the Stout community.
Wayne was also active in the Menomonie community. He served on the board of Impact 7 for several years. He was on the Menomonie Youth Hockey Board, being inducted into their Hall of Fame, and served as chairman of the Fund-Raising Campaign for the first artificial ice and concession area addition for the Dunn County Ice Arena at the Dunn County Recreation Park in 1987-88.
Wayne loved the outdoors, reveling in hunting, fishing, camping, and golfing. He enjoyed traveling, cooking, playing cards, (especially Poker and Blackjack) and bingo. He was an avid Chicago Cubs and Bears fan, and loved hosting parties for his friends. Wayne had a great sense of humor and delighted in playing pranks on those he loved.
In 1996 Wayne sustained a serious traumatic brain injury while hunting in Colorado. Although this profoundly impacted his life, it did not change his positive outlook and his ability to find joy in every day. For a number of years he was still able to continue serving his community by helping out at the local food pantry and by calling bingo for the elderly residents at a local senior housing facility.
Wayne is survived by his wife, Sheri, his children, Heather (Kurt) Obenberger; Heath (Liza); two grandsons, Tyler and Grayson Obenberger: two brothers, Gil (Carol) and Jim (Martha); five nephews and other relatives and friends. He is preceded in death by his parents.
In lieu of flowers, memorials may be given in Wayne's memory to the UW-Stout Foundation, Our Savior's Lutheran Church, Menomonie Youth Hockey, or Stepping Stones of Dunn County.
A Celebration of Life will be held for Wayne on Friday July 12, 2019 at the Stout Ale House in Menomonie from 3:00 to 7:00 PM.