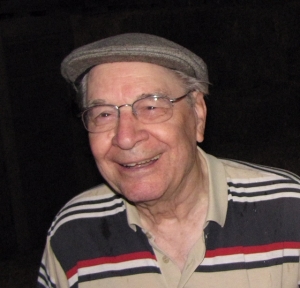 Lee Harold Smalley, age 92, of Menomonie, passed away on June 28, 2019 surrounded by his family.
Born October 8, 1926 in Mt. Auburn Iowa, Lee married Helen Gerdes on June 1, 1952 in Monticello, Iowa. He served in the US Navy from 1944-1946. He earned a Bachelor of Science from the University of Northern Iowa; a Masters of Science from the University Maryland; and a Doctorate of Education from Michigan State University. He taught at the University of Wisconsin Stout from 1964 to 1992.
Lee was involved in his community in a myriad of ways - serving on a variety of boards including the Menomonie Public Library and WestCAP. He was a founding member of the Kiwanis Club and "The Pounding Fathers" who helped with house projects as well as Habitat for Humanity. He was inducted into the UW-Stout Athletic Hall of Fame in 2015.
His spare time was filled with rich activities in traveling, attending plays and watching films. He was an avid reader who would read just about anything you gave him. He never missed a day without completing several Sudoko puzzles - only the extremely hard challenging version! He was also a writer and a poet. He was famous for the booklets he had printed on a variety of subjects in a variety of colors, ranging from "Life on the Farm", his time spent in the Navy, or just his latest collection of poems. He also published several books of poetry.
He is survived by his wife of 67 years, Helen; son, Dennis (Joyce) Smalley; daughter, Laura (Robb) Reisinger; brothers, Jim (Nancy) Smalley and Gene (Helen) Smalley; and a sister Doris Pippert. Grandchildren include: Robin (Martin) Adams, Ryan (Mel) Smalley, and Randi (Joel) Strangstalien. Great-grandchildren include: Aloni, Amaya & Ashton Adams; Bentley Smalley; Nick Fellegy, Lyla & Arthur Strangstalien.
He was preceded in death by his parents, Harold & Ella Smalley; as well as siblings, Roy Smalley, Ruth McAndrews, Norm Smalley, and John Smalley.
In lieu of flowers, donations may be given to the Stout Foundation towards a memorial scholarship being established in his name. A Celebration of Life is planned for October 19, 2019 at the UW-Stout Archives.