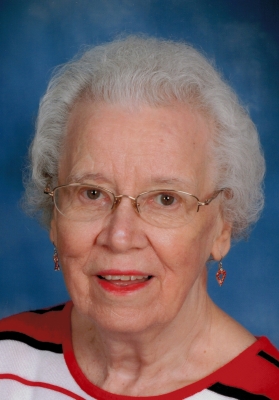 Olive M. Goodrich age 92 of Menomonie, died Thursday July 4, 2019 at the Seasons Hospice and Palliative Care in Waukesha.
Olive was born April 15, 1927 in Mower County, Minnesota. She was the daughter of Howard and Helen (Doten) Brownell and grew up on the family farm. Olive graduated from Stewartville High School in 1945 and from Stout State College (UW-Stout) in 1949. She taught Home Economics at Dunn County School of Agriculture in Menomonie. Olive married Donald J. Goodrich July 28, 1951 in Racine, MN. Olive also taught in River Falls when her husband Don was in the Korean War.
Olive was an active member of First Congregational United Church of Christ and taught Sunday School for many years. She was Past Matron of the Order of Easter Star in Menomonie and was past President of Chapter AN, P.E.O. Olive was active in the Tour of Homes with the church. She enjoyed gardening, knitting, sewing and made clothes for her children and grandchildren. Olive and Don enjoyed golfing, dancing and spending winters in Florida.
Olive is survived by three daughters, Jane (Scott) Christensen of Wisconsin Dells, Gail (Michael) Tracy of Overland Park, KS, Lynn (Edward) Furey of Eagle, WI; seven grandchildren, nine great grandchildren; two sisters, Marilyn Brownell of New York, NY; Dorothy (Jim) Olds of Platteville; several nieces, nephews and other relatives and friends.
She is preceded in death by her parents, her husband Don in 2016, two brothers, Melvin and Wayne Brownell and one sister, Marjorie Wolfgram.
In lieu of flowers memorials may be given to the P.E.O. or the First Congregational UCC in Menomonie.
Funeral services will be at 11:00 AM Friday July 12, 2019 at First Congregational United Church of Christ in Menomonie with Rev. Toby Ellison officiating. Burial will be in the Evergreen Cemetery.
Visitation will be held one hour prior to services at the church on Friday.