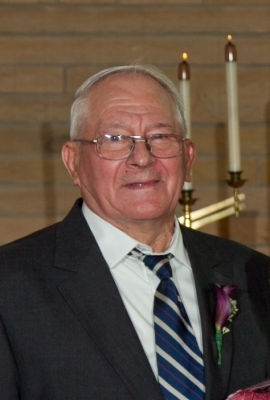 Charles F. Weisenbeck, age 84 of Durand, passed away peacefully in the comforts of his home on Monday, July 15, 2019.
Charlie was born on June 22, 1935 on the Weisenbeck home farm in the Town of Maxville in Buffalo County. He was the son of Thomas and Lucy (Zeillinger) Weisenbeck Sr. Charlie graduated from Durand High School and continued with his passion for farming by purchasing a farm just a few miles down from his home farm in Buffalo County. Charlie married Sally Sue Kees on November 9, 1957. He served in the Army from 1957-1959, completing most of his service in Germany and was Honorably Discharged. He could be often heard telling fond stories about Germany and his lifelong friends with whom he served with. Charlie also served as the Maxville Town Chairman for many years. Charlie and Sally had 10 children and raised them on their farm. Charlie loved both farming and his family very much.
Charlie was a proud member of the American Legion Post #181 of Durand. He enjoyed volunteering at their events where he made lifelong friends. Charlie was a talented woodworker. Two of his favorite things where to make oars – often auctioned off for worthy causes, and Wisconsin plaques for his fellow veterans. Charlie was a proud American and could be found discussing the politics he was so passionate about while eating a burger and drinking a Coke. If Charlie was not catching up on the current events on FOX News he was surely watching any sporting event, especially if a Wisconsin team was playing or listening to his favorite polka bands.
Charlie is survived by his wife Sally, children Charlie Jr. (Molly), Mark, both of Durand, Heidi (Marty) Mellenthin of Eau Galle, Julie (Warren) Warmbold of Park Rapids, Sara (Paul) Odegard, Brian (Jeanine), both of Durand, Bruce (Kate) of Amery and Jennifer Weisenbeck (Ed) of Portage, grandchildren Faith (Dustin), Dani, Hailey, Tyler, Jeni (Jeremy), Ashley (Jared), Angie, Tony (Katie), Katelynn, Arianne, Kallie and Lily, great grandchildren Lucas, Logan, Michael, Everly, Eli and Madelyn, brother Kenneth (Ilene) of Pepin, sister-in-law Dellann Weisenbeck of Durand, nieces, nephews, other relatives and friends.
He is preceded in death his parents, two sons, Bernard and John and a granddaughter Amanda; twin brother Thomas Jr., two sisters Loretta Weisenbeck in infancy and Betty Wilz, sister-in-law Marjorie Weisenbeck, brother-in-law Pat Wilz.
Funeral Mass will be 11:00AM Monday, July 22, 2019 at St. Mary Catholic Church in Durand with Rev. Paul Hoffman officiating. Burial will be in the church cemetery. Visitation will be from 4:00PM-8:00 PM Sunday at the Rhiel Funeral Home in Durand and one hour prior to services at the church on Monday.
Rhiel Funeral Home & Cremation Services of Durand is serving the family.